Mililani defeated Pearl City 7-4 in OIA Western Division 1 Junior Varsity Baseball on Saturday, December 19, at Pearl City High School.
Pearl City trailed Mililani entering the bottom of the fourth inning but put together a two-run rally that tied the game at 4-4. Mililani came right back in the top of the sixth inning scoring three runs to go up 7-4. The Trojans shut down the Chargers in both the sixth and seventh innings for the win.
Jansen Shigeta got the start for the Chargers before being relieved by Champ Smith in the sixth inning.
Pearl City evened their OIA West D1 record at 1-1. The Chargers return to action on Monday, December 21 on the road at Waianae. First pitch is scheduled for 3:00pm. Mililani will host Leilehua on Monday, December 21 at 3:00pm.
GO CHARGERS!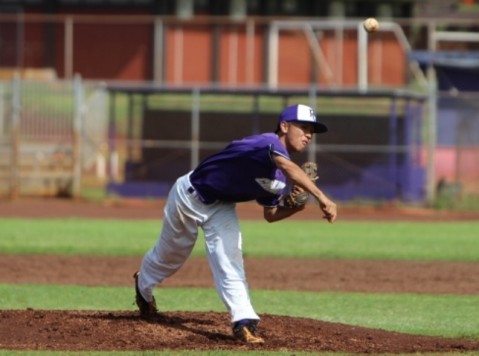 Photo by Barry Villamil | [email protected]
Pearl City starting pitcher Jansen Shigeta is pictured in the top of the second inning against Mililani.