The Pearl City Chargers improved to 2-1 after defeating Waialua 49-43 in OIA Western Division varsity boys basketball played at Pearl City High School on Thursday.
Pearl City's Gilbert Tapat led all scorers with 18 points including 1-3PM. Faaolataga Sailele led Waialua with 13 points.
SCORERS:
Pearl City – Gilbert Tapat 18, 1-3PM; Ryan Yamamoto 11, 1-3PM; Pierce McMoore 9; Pono Akiona 6; Sape Tupuola 5
Waialua – Faaolataga Sailele 13; Royce Tashiro 12, 1-3PM; Lance Kuni 11, 1-3PM; Kymani Ayonon 7. 1-3pm
The Chargers will host Campbell on Saturday, January 9. JV 5:30pm, Varsity 7:00pm
GO CHARGERS!
JUNIOR VARSITY
PEARL CITY 45
WAIALUA 31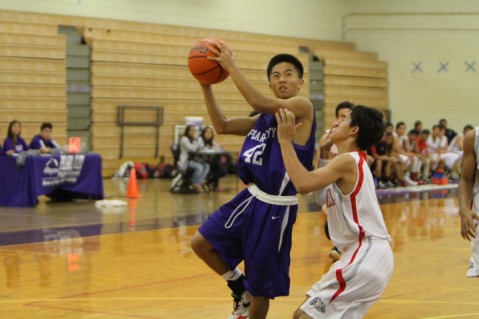 Photo by Barry Villamil | [email protected]