The Pearl City Chargers defeated the Waianae Seariders 39-30 in the OIA West D1 Varsity Boys Basketball regular season finale played on Thursday at Pearl City High School.
Pearl City finished league play at 8-2. Waianae closed the regular season at 5-5.
Pierce McMoore led the Chargers with 11 points. Manu Taukolo also pumped in 11 points to lead the Seariders.
The Chargers finished the regular season strong winning their final four games and finishing in second place behind first place Leilehua. The Chargers will take their momentum into next week's OIA championship tournament where they enter as the West second seed and will take on the winner of Thursday, February 4 opening round match up between E3 McKinley and W5 Mililani on Friday, February 5, 6pm at Pearl City High School.
Last night, the Chargers ran into a tough and athletic Waianae Seariders squad.
"We knew Waianae was athletic, they have some hoppers, but we wanted to win," said Chargers Head Coach Lionel Villarmia. "We locked second place, but we wanted to win and carry our four game win streak into the playoffs."
The Chargers came from beyond pulling even at 16-16 at the half and needed to shift gears in the second half. "We had to attack the zone. Same thing like Mililani, in the first half we just played perimeter and in the second half we started to attack it which opened it up for us.," Villarmia said.
Pearl City also bid Aloha to 5 talented Seniors:
Sape Tupuola, Kavossie Mason, Gilbert Tapat, Pono Akiona, Christian Punsalan
ALOHA SENIORS!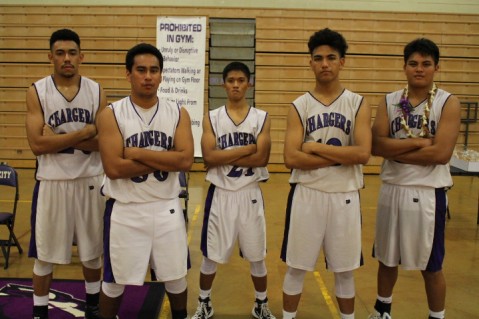 Photo by Barry Villamil | [email protected]
(Pictured from L-R)

Kavossie Mason, Christian Punsalan, Gilbert Tapat, Sape Tupuola, Pono Akiona

Photo by Barry Villamil | [email protected]
JUNIOR VARSITY
WAIANAE 26
PEARL CITY 39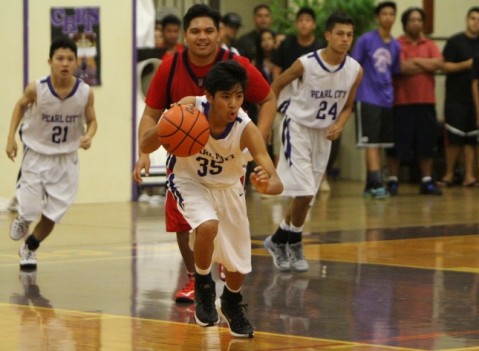 Photo by Barry Villamil | [email protected]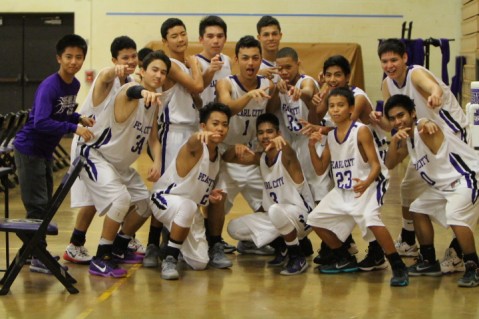 Photo by Barry Villamil | [email protected]