Submitted by Manana Elementary School:

Spring is just around the corner, and the members of Manana Elementary School's Parent Teacher Organization (PTO) are gearing up for their Annual "Celebrate Spring" Craft Fair to be held on Saturday, April 16, 2016, at the Manana Elementary School campus in Pearl City. The fair will run from 9:00 AM to 2:00 PM.
Its ninth year in existence, the craft fair is organized by parent volunteers at Manana Elementary School, along with help from staff, students, and partners. "Vendors love our craft fair because of our helpful volunteers and the good number of visitors," said Cheryl Katano, the school's Parent Involvement Person. "We'll have more than 80 vendors this year, most of which are returnees from previous years."
The PTO is hoping for another successful event this year. The non-profit organization has been a valuable partner to Manana Elementary School, located in Pearl City, providing each grade level with extra funds for classroom supplies and projects; paying for field trip transportation; supporting extracurricular groups like the chorus, JPO, and robotics; and sponsoring a school-wide art competition.
"The craft fair has become an annual event that everyone from our school and community looks forward to," said Craft Fair Committee Chair, Paulette Ujimori, "Its' a local event supporting local people in our community. Besides being one of the biggest fundraisers for our PTO to support our students, it's a fun time for families and friends to get together, enjoy some food, play games and shop among local crafters and vendors."
The format of this year's event will follow last year's, with vendors occupying booths in the cafeteria and around the Manana campus. With over 80 vendors, including Island Papercraft, Beads and Things by Kori, Kissy, Charmed Aloha, Sewpopo, IDJ Hawaii, Healthy Doggies Hawaii, Inc., Pochos Bakery, Ileana's Hawaiian Quilts & Crafts, 5-Star Collectibles, HNH International, Serenallure, Helrazr and Paul's Poppers, fair goers are sure to find the perfect gifts for graduation, Teacher Appreciation Day and Mother's Day.
The PTO will be selling food for purchase, including beef stew, SPAM musubi, teri chicken bowls, fried noodles, KC Waffle Hot Dogs and drinks. There will also be inflatables as well as games for the keiki, including an Angry Birds game and an aquaponics game, so it promises to be fun for the whole family.
For more information, call 454-5305, or visit http://www.manana.k12.hi.us/ and click on the PTO link.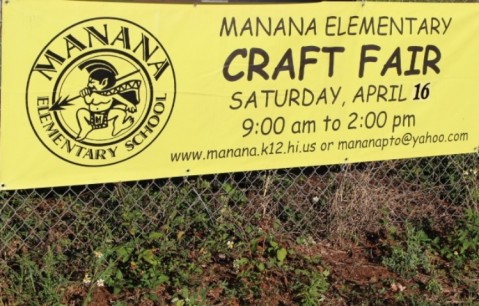 Photo by Barry Villamil | barry@mypearlcity.com