The Pearl City Lady Chargers shut out Castle 2-0 on Thursday to advance to the Oahu Interscholastic Association Division 1 Varsity Girls Soccer Championship title match against Mililani on Saturday, February 6, 6:30pm at Kapolei High School.
Sisters Randi and Sunshine Fontes scored a goal apiece for the Lady Chargers in the win over the Lady Knights. Both goals were scored in the 3rd and 4th minutes of the ball game. Sunshine pulled within one goal of matching Lady Charger teammate Daelenn Tokunaga who leads all Division 1 scoring with 23 goals.
The Lady Chargers got out front early, but Head Coach Frank Baumholtz III wanted more from team as Castle kept up the pressure throughout the contest.
"We got up 2-0 and we thought we had the game won, but Castle kept coming back, they're a very good team," said Coach Baumholtz. "They kept the pressure on. They could do some damage in the state tournament. We've got to work together a little better in the back. We kept passing the ball right straight to the other team and kept making it easy on them. It was stressful. This is one of the most stressful seasons I've ever had. I told the team at halftime the scores 0-0. We can't be thinking that we're winning 2-0. If we have that mentality we're going to put ourselves in jeopardy. A couple times we did."
Saturday's championship game against Mililani is going to prove to be a tough match-up between the west division rivals. "The last time we played we beat them 3-2. It was a very competitive game, Coach Baumholtz said.
Junior midfielder Randi Fontes will be playing to win a second OIA Championship with the first title won as as freshman in 2014. Her sister Sunshine, who is a freshman, will be trying to do the same. Randi is enjoying playing with her younger sister this season.
"It feels good because we have a good connection because we're sisters," said Randi. "We kind a know how each other plays. We play together in clubs, so it's kind of the same. It feels good to play for another championship. Saturday we're going to have to work hard and score early like we did today."
"The girls play real hard together," Coach Baumholtz commented on his talented sister combination. "Sunshine has matured real well during the season."
It will be a classic match-up between West #1 seed Pearl City (12-0) and West #2 seed Mililani (11-1) for the championship on Saturday. The only blemish on the Lady Trojans record came at the hands of the Lady Chargers 3-2 at Mililani during the regular season.
Mililani advanced to the championship title game after defeating #1 East seed Moanalua 6-1 in the second semifinal match played at the Kapolei High School Stadium on Thursday.
Saturday's championship will be televised live on Oceanic Cable TV.
GO LADY CHARGERS!
Photo by Barry Villamil | barry@mypearlcity.com
Pearl City's Sunshine Fontes #25 fights for control of

the ball near the goal in the second half against Castle.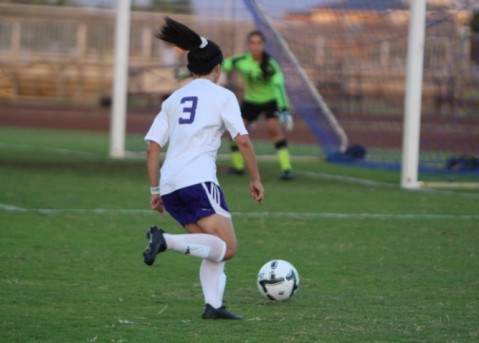 Photo by Barry Villamil | barry@mypearlcity.com
Big sister Randi Fontes sets up to take a shot on goal in the first half.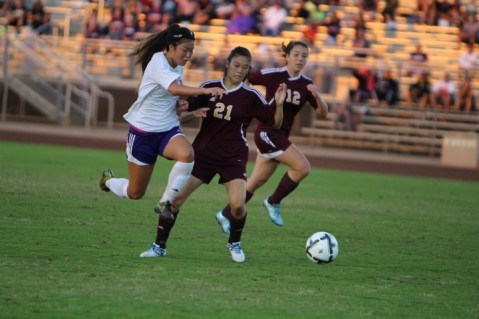 Photo by Barry Villamil | barry@mypearlcity.com
Overall Division 1 scoring leader Daelenn Tokunaga played a key
role in the Lady Chargers semifinal win over the Lady Knights
picking up an assist on the first goal of the ball game by teammate
Randi Fontes that put the Lady Chargers up 1-0 early in the first half.