The Pearl City Lady Chargers earned a well-deserved Oahu Interscholastic Association Varsity Girls Wrestling Team Championship on Saturday, February 13 at Leilehua High School.
After two days of grueling competition, the Lady Chargers emerged victorious after outscoring runner-up Campbell by six points, 142-136 to claim the team championship title. The Lady Chargers placed five wrestlers in the finals.
Three Lady Chargers won individual championships:
(109) Mikayla Abe defeated Leilehua's Brianna Leong
(129) Asia-Lien Evans defeated Waianae's Anuhea Hamilton on points
(170) Jenny Fuamatu pinned Campbell's Caragh Morris
Abe and Evans won their second consecutive OIA individual championship crowns.
Runner-up Finishers:
(124) Netanya Kang
(147) Jacqueline Fuamatu
"It feels really good to win," said two-time OIA individual champion Mikayla Abe. "Especially because I have my support system. I would like to thank my team and my coaches. and my parents for always supporting me. It feels great to be a two-time champion. I'm excited for the upcoming states. I'm going to be practicing hard this coming week."
Netanya Kang made it to the 124 lbs. weight class finals, but fell to Waianae's Tehani Carlson in the third period. Even with the loss, Netanya kept a positive attitude and is looking forward to competing in the states. She also expressed her pride in her teammates for their accomplishments in winning team and individual championships.
"During my match I came out aggressive," said Kang. "I did what I needed to do. I listened to my coaches, but towards the ending I got caught. I gotta come back strong in the states. Team wise we executed and everybody did their jobs today."
Both the Chargers Boys and Girls wrestling teams will compete in the HHSAA State Wrestling Championships scheduled for Friday, February 19 and Saturday February 20 at Blaisdell Arena.
GO CHARGERS!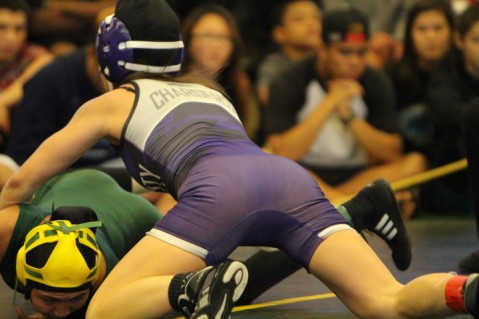 Photo by Barry Villamil | [email protected]
Pearl City's Mikayla Abe defeated Leilehua's Brianna Leong to win the 109 lbs. individual

championship title. Mikayla won her second consecutive OIA individual championship.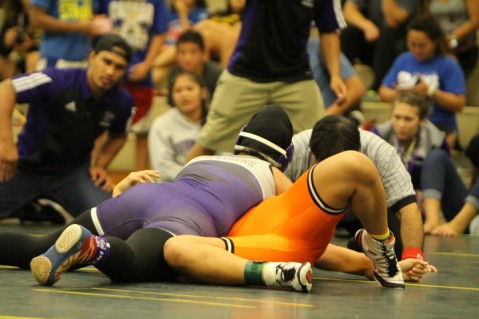 Photo by Barry Villamil | [email protected]
Jenny Fuamatu seals the Lady Chargers team championship after pinning

Campbell's Caragh Morris to win the 170 lbs. individual championship title.