Sunshine Fontes kicked in three goals to lead the Pearl City Lady Chargers over Kapolei 4-1 on Wednesday in the first round of the HHSAA State Girls Soccer Championship Tournament played at the Waipio Peninsula Soccer Complex in Waipahu. Daelenn Tokunaga pumped in the first goal of the ball game in the 6th minute to put the Lady Chargers up 1-0.
Sunshine's three goals places her as the top overall Division 1 scoring leader with 26 goals. Lady Charger teammate Daelenn Tokunaga is in second place with 24 goals.
The Lady Chargers move on to the tournament quarterfinals and will face #3 Hilo on Thursday, 3:00pm at the Waipio Peninsula Soccer Complex Main Stadium.
Goals:
PC – Daelenn Tokunaga 1, Sunshine Fontes 3
Kapolei – Michele Bonafacio 1
Wednesday (2/17) First Round Scores:
Campbell 4 Waiakea 0
KS-Kapalama 7 Moanalua 0
KS-Maui 5 Castle 4 (2OT/PK)
Pearl City 4 Kapolei 1
Thursday (2/18) Quarterfinal Match-ups:
Main Stadium
#4 Baldwin vs. KS-Kapalama 1:00pm
#3 Hilo vs. Pearl City 3:00pm
#2 Iolani vs. KS-Maui 5:00pm
#1 Mililani vs. Campbell 7:00pm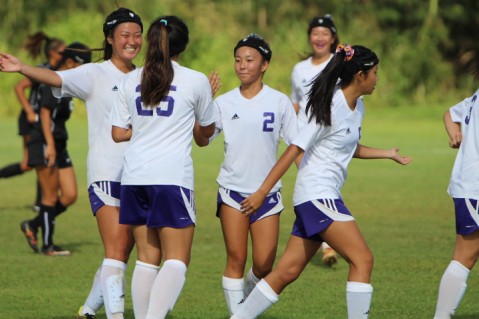 Photo by Barry Villamil | [email protected]
GO LADY CHARGERS!