Contributions, people power and volunteerism efforts for 2015
Submitted by Hawaiian Electric:
During 2015, Hawaiian Electric donated more than $755,000 in corporate contributions to non-profit and community organizations across Oʻahu, including $48,000 donated in the last quarter to support community services provided by Blood Bank of Hawaiʻi, Boys & Girls Club of Hawaiʻi, Hale Kipa, Hawaiʻi Cord Blood Bank, Hawaiʻi Literacy, Marimed Foundation and The Trust for Public Land. The Company's total contributions for 2015 include $103,000 for STEM (science, technology, engineering and mathematics) educational activities, initiatives and programs.
Throughout the past year, more than 2,000 Hawaiian Electric employees and their 'ohana contributed 10,659 volunteer hours to assist with 166 Hawaiian Electric community service projects across the island, such as serving meals at the Institute for Human Services, fundraising for various charitable organizations, spearheading food drives, donating blood, organizing and participating in community workdays, and more.Contributions, people power and volunteerism efforts for 2015
In recognition of exemplary volunteer service to the community, the HEI Charitable Foundation also honored three Hawaiian Electric employees as its 2015 "Kokua Community Champions" and made a $1,000 donation to nonprofit organizations selected by the employee:
• Robert Kahawaiʻi was recognized for his outstanding leadership and efforts in supporting homeless shelters along the Leeward Coast of Oʻahu. For the past four years, Robert has organized an annual Memorial Day Hukilau for teenagers from homeless shelters, arranging transportation to Laie, organizing games, mentoring, fishing, and preparing most of the food (with help from his wife). Robert selected Papahana Kuaola, Paepae o Heʻeia, Koolauloa Hawaiian Civic Club, and Koolauloa Educational Alliance Corporation to share the donation. Robert is a project manager for maintenance overhauls, and lives in Windward Oʻahu.
• John Luʻuwai was recognized for his exceptional and tireless volunteer efforts in the community and within Hawaiian Electric. John initiated and leads an annual Christmas book drive for children at homeless shelters on the Leeward Coast, collecting new and gently used books, CDs and DVDs, and delivering them to the shelters. He also initiated and plans the Hukilau working with Robert. John served as a Native Hawaiian student mentor at Leeward Community College, organized Kahe's Farrington roadside Adopt a Highway, and also coordinated the UH College of Engineering high school summer interns tour of Hawaiian Electric facilities. John selected Royal Hawaiian Academy of Traditional Arts, Papahana Kuaola, and Paepape o Heʻeia to share the donation. At Hawaiian Electric, John is a senior engineer, generation project development. He lives in Windward Oʻahu.
• Tammy Miyashiro was recognized for her initiative undertaking company fundraising activities and supporting local community sports. When unable to attend a company-sponsored fundraiser event, Tammy finds alternative ways to participate, such as making a monetary contribution or providing snacks for the volunteers. In her spare time, Tammy volunteers as a certified USA swim-meet officiant. Tammy selected the Hawaii Foodbank to receive the $1,000 donation. She is a budget/project analyst in the Renewable Acquisition Department, and a resident of Aiea.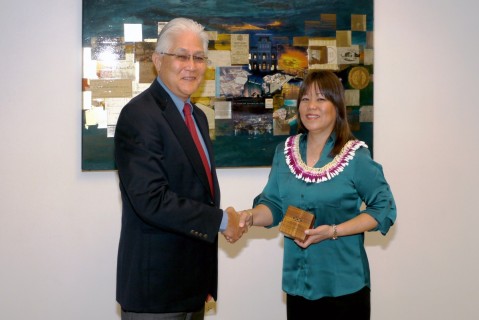 Photo provided by Hawaiian Electric
Hawaiian Electric President Alan Oshima is pictured presenting Hawaiian Electric
employee Tammy Miyashiro with a 2015 "Kokua Community Champions" award from the HEI
Charitable Foundation in recognition of her exemplary volunteer service to the community