The Rotary Club of Pearlridge (RCOP) presented the first of 12 Good Citizen Awards on Friday, April 8, 2016 at Pearl City Highlands Elementary School. Third grade students from both Pearl City and Aiea representing twelve schools will receive a $50.00 check from the RCOP in the months of April and May as a part of Rotary International's Annual Dictionary 5000 Project.
The RCOP is proud to announce Pearl City Highlands Elementary School third grade student Hayley Wu as our first RCOP Good Citizen Award winner.
One student from each school, who best exemplified being a good student was chosen by their teachers to receive the RCOP Good Citizen Award. Third graders and their teachers from each school received their very own, brand new dictionary from the ROCP in the beginning of the 2015-2016 school year.
During RCOP community volunteer visits to each classroom in the beginning of the school year, the students were introduced to Rotary Club International's "Four Way Test". Principles of the "Four Way Test" were included in each dictionary for the students to study and practice.
"Four Way Test"
1. Is it the truth;
2. Is it fair to all concerned,
3. Will it bring good will and better friendships,
4. Will it be beneficial to all concerned.
RCOP community volunteers will visit Lehua Elementary School this afternoon to present the next RCOP Good Citizen Award to a very deserving third grade student.
2015-2016 RCOP Dictionary 5000 / Good Citizen Awards
Pearl City / Aiea Schools
Gus Webling
Pearl Ridge Elementary
Pearl City Elementary
Lehua Elementary
Palisades Elementary
Pearl City Highlands Elementary
Waiau Elementary
Alvah Scott Elementary
Manana Elementary School
Our Savior Lutheran
St. Elizabeth School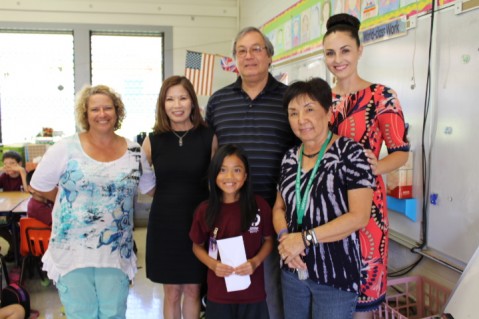 Photo by Barry Villamil | [email protected]
Rotary Club of Pearlridge Good Citizen Award winner Hayley Wu from Pearl City Highlands
Elementary School is pictured with (from L-R) Ms. Kathy Montgomery (teacher), RCOP Good Citizen
Award presenters, Charlene Ikeda, Dick Mosko, and Jaci Agustin and Mrs. Joy Shigemasa (teacher).