The Chargers completed a perfect 12-0 Oahu Interscholastic Association regular season on Saturday after defeating Leilehua 12-2 (10-run mercy rule, 6th) at Pearl City High School. It was the second win over Leilehua this season that was decided by the 10-run mercy rule.
Pearl City seniors and senior reserves played a big role on Saturday with Charger starting pitcher Torey Chun taking care of business from the mound tossing five complete innings while allowing two runs on three hits with four strikeouts and one walk. Dillin Hasegawa pitched the sixth inning in relief of Chun.
From the plate, clutch hitting drove in key runs with the biggest one coming off the bat of Jacob Anoina who hit a RBI single that scored Colby Hirano from third base with the winning run in the bottom of the sixth inning that forced the 10-run rule at 12-2.
Senior contributions:
Colby Hirano 2-4, double, 2 Runs, 2 RBI; Ernest-Joshua Kam 2-2, 2 Runs, 2RBI; Jacob Anoina 2-3, RBI; Matt Yokota 1-2, Run, 2 RBI; Ansin Mostoles 1-4, triple, Run, 2 RBI; Keanu Nicholson 1-4, 2 Runs; Chase Yoshida 2-3, 2 Runs, RBI
Leilehua Leading Hitters:
Jansen Dangaran, 1-3, double, Run; Christian Ontai 1-3. Dancin Ah Quin 1-3, Run, Jaryn Kanbara 1-3, RBI
Leilehua starting pitcher Na'i Cordero took the loss for the Mules. Cordero allowed six runs on four hits with no strikeouts and one walk in 1 1/3 innings.
Chargers Head Coach, Gavin Concepcion is happy with the success of his baseball team during the regular season but knows that there's a lot of work to do to be successful in the OIA playoffs and at states.
"We're happy where we're at," said Concepcion. "We came into this season wanting to compete, get into the playoffs, possibly one or two seed, and just set us up for a better path and more successful going forward. Going 12-0 is something that looks really good down on paper, but if we don't finish the season strong it doesn't mean anything. Are we there where we want to be to finish what we want to do in the OIA playoffs and states? Me and the coaching staff and the kids know this too. We see a lot of work that we gotta get done. We're glad and happy that the kids understand that and they're willing to put that work into us."
The Chargers enter next week's OIA DI Championship Tournament as the #1 West Seed.
Aloha Seniors!
Jacob Anoina, Torey Chun, Trenton Darley, Colby Hirano,
Ernest-Joshua Kam, Ansin Mostoles, Trestan Nakamura,
Keanu Nicholson, Matt Yokota, Chase Yoshida, Jarin Iwata
GO CHARGERS!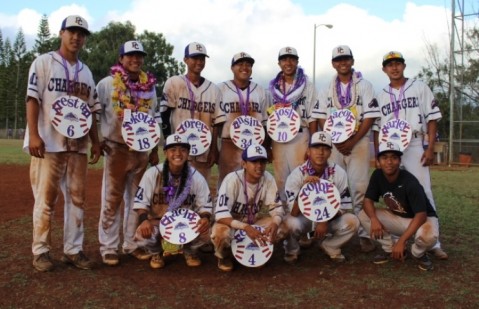 Photo by Barry Villamil | barry@mypearlcity.com

Photo by Barry Villamil | barry@mypearlcity.com
Colby Hirano and his mom celebrate at home plate as Colby made is final trek around the bases.

@ Pearl City High School
1 2 3 4 5 6 7 R H E
Leilehua (2-10) 2 0 0 0 0 0 X 2 4 4
Pearl City (12-0) 2 4 1 0 0 5 X 12 12 1