Submitted by Hawaiian Electric:

Manawaleʻa theme guided fundraising efforts
A year-long fundraising campaign spearheaded by Hawaiian Electric employees resulted in a contribution of $450,000 to Aloha United Way (AUW). Funds were raised through employee and retiree pledges; bake sales and cookbook sales; t-shirt sales; an online auction; a golf tournament; and other activities held in 2015, all based around a theme Manawaleʻa, meaning "a generous heart."
"At one time or another, all of us have been touched by an Aloha United Way organization," said Alan Oshima, president and CEO. "As a company with a long legacy of giving back to the community, the Hawaiian Electric ʻohana has continued the tradition year after year to make a difference in the lives of those who need our support the most."
"Hawaiian Electric employees put their heart into this every year with the goal of helping individuals and families in our community who are less fortunate," said Cindy Adams, president and chief executive officer of Aloha United Way. "Combined with the HEI Charitable Foundation's corporate gift of $300,000, they put food on tables, help provide shelter to homeless, and support many other much needed programs and services."
Hawaiian Electric has more than 2,100 employees on Oʻahu.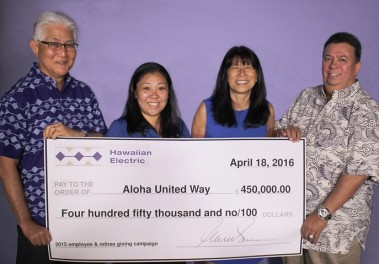 Photo caption: Hawaiian Electric employees, with support from IBEW Local 1260, raised $450,000 for Aloha United Way during a year-long campaign in 2015. Standing left to right: Alan Oshima, Hawaiian Electric president and CEO; Shannon Asato, Hawaiian Electric corporate audit manager and 2015 AUW committee chair; Cindy Adams, Aloha United Way president and CEO; and Brian Ahakuelo, IBEW Local 1260 business manager and financial secretary.