Our #1 ranked Pearl City Chargers (12-0) will face E4 Roosevelt on Thursday in the quarterfinals of the OIA DI Baseball Championship Playoffs at Pearl City High School. First pitch is scheduled for 3:00pm.
Roosevelt (7-6) defeated Waianae (4-9) 6-5 on Wednesday in the opening round of the championship tournament to advance to Thursday's quarterfinals.

W1 Pearl City / E4 Roosevelt winner will face the winner of Thursday's quarterfinal match-up between E2 Kailua and W3 Campbell on Friday in the second game of the championship tournament doubleheader semifinals at Hans L 'Orange Park in Waipahu. First pitch is scheduled to follow a 1/2 hour after the 3:30pm first semifinal contest. Campbell (8-5) defeated Castle (2-11) 3-1 to advance to the quarterfinals.
Both semifinal games will be televised live on OC-16.
GO CHARGERS!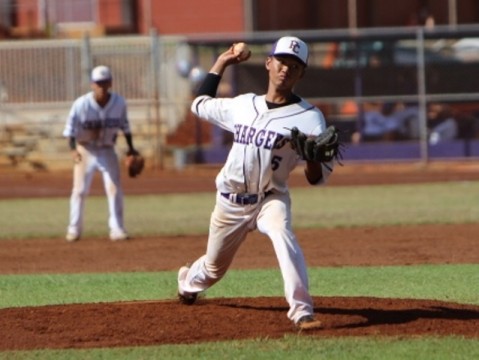 MyPearlCity.com File Photo | [email protected]