The Pearl City Chargers are headed to Saturday's 2016 HHSAA Boys & Girls State Judo Championships scheduled for Stan Sheriff Center after placing five Chargers on the championship title podium at the Oahu Interscholastic Association Individual Judo Championships held this past Saturday at Leilehua High School.
The Chargers will carry their momentum into the Stan Sheriff Center on Saturday. Bouts start at 10:30am.
GO CHARGERS!
Pearl City Chargers
2016 OIA Individual Judo Champions
Boys
198
Matthew Keopuhiwa
Girls
109
Mikayla Abe
154
Nina Seoane
172
Jacqueline Fuamatu
220
Jenny Fuamatu
Pearl City Chargers
2016 OIA Individual Judo Championship Results
BOYS

108 Brennan Larita 7th
114 Noah Ines 7th
121 Jon Domingo 4th
132 Cambey Quijano 4th
161 Emery Oakley 6th
161 Christian Edwards 7th
178 Carson Hernandez 6th
198 Matthew Keopuhiwa 1st
285 Kaniala Kaohe 4th
285 Paulsson Soloman 5th
GIRLS

109 Mikayla Abe 1st
115 Kayla Odo 7th
122 Netanya Kang 3rd
122 Chanel Hunter 6th
129 Jenesis Cabjuan 7th
139 Sarah Kaaiakamanu 2nd
154 Nina Seoane 1st
172 Jaqueline Fuamatu 1st
220 Jenny Fuamatu 1st
CONGRATULATIONS!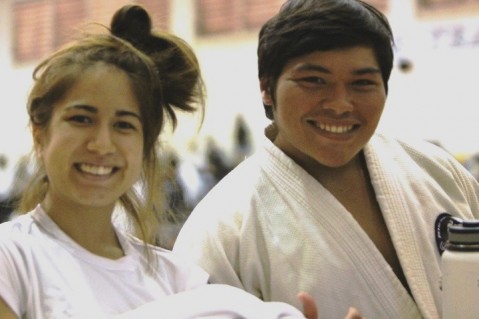 MyPearlCity.com File Photo | barry@mypearlcity.com
2016 OIA Individual Champions Mikayla Abe (109) and Matthew Keopuhiwa (198) will lead

their Pearl City Chargers teammates into battle on Saturday, May 7, 2016 at Stan Sheriff Center.