This week's announcement that U.S. Repesentative Mark Takai will not seek a second term is sad news, but knowing that he will concentrate on continuing his fight for a full recovery against pancreatic cancer brings hope and prayer to him, his family and friends.
Mark is a good friend, and has always been there for me while supporting our efforts to better the lives and well-being of the Pearl City community. We have both volunteered together to make a difference, and with Mark's leadership and drive, we've reached many goals.
A key element to Mark's success as an elected lawmaker is his word, humbleness, and commitment to getting out into the community he serves to lend a hand when needed. One thing I can confidently say is Mark will never show up at a volunteer community project just in time for a photo op. He's there from start to finish.
Most recently, Mark had just flown in from Washington D.C. in early April, 2016 and actually came over to Pearl City Highlands Elementary School to volunteer his time at our "It's Not All Right To Run The Red Light" Traffic Safety Awareness Signwaving Day. It took a lot of energy, but Mark was there for the students and the community.
I want wish Mark a speedy recovery and to let him know that my daily prayers are with him.
Get well my friend! We have a lot of traffic to slow down!
Barry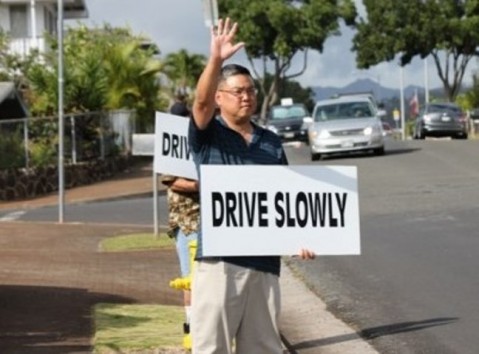 MyPearlCity.com File Photo | barry@mypearlcity.com