Submitted by Hawaiian Electric:
The U.S. Clean Energy Education & Empowerment (C3E) program, which is led by the U.S. Department of Energy in collaboration with the Stanford Precourt Institute for Energy and the MIT Energy Initiative (MITEI), has honored Shelee Kimura, Hawaiian Electric vice president of corporate planning and business development, with a C3E Award for her leadership and achievement in Business. The award was presented to Kimura at the fifth annual C3E Women in Clean Energy Symposium held May 31 at Stanford University. The Symposium was held as a side event to the seventh Clean Energy Ministerial.
The C3E Awards recognize mid-career women for outstanding leadership and achievement in driving clean energy progress in various sectors. The Awards provide critical recognition, supporting women's career advancement and inspiring women of all ages to contribute to the clean energy field. As one of eight mid-career women recognized by the C3E program, Kimura was selected from a nationwide pool of nominations and chosen by the U.S. C3E Ambassadors, distinguished energy experts who serve as role models and advocates for women in clean energy.
Kimura's leadership and facilitation of Hawaiian Electric's multi-faceted strategy – which is helping to guide Hawaiian Electric's leap from a traditional utility model to a transformative clean energy leader – is among her key accomplishments recognized by C3E. In her role at Hawaiian Electric, Kimura co-leads the company's transformation implementation and heads the areas of strategic planning, business development, forecasting, renewable acquisition, grid technologies and demand response; areas which oversee the initiatives that extend Hawaiian Electric's reach to explore and implement a portfolio of innovative solutions to achieve Hawaiʻi's clean energy future. Kimura was instrumental in launching Hawaiian Electric's central, transformational strategy and the company's long-term vision, the foundation that sets the course to achieve a 100 percent renewable portfolio standard for Hawaiʻi by 2045 amidst a rapidly evolving energy ecosystem.
Prior to joining Hawaiian Electric in 2014, Kimura held positions at parent company Hawaiian Electric Industries, Inc. (HEI). She served as manager of investor relations and strategic planning as well as director of corporate finance and investment. Kimura is a mother of three, a proud graduate of Aiea High School, holds a bachelor of business administration degree from the University of Hawai'i at Mānoa and is a graduate of the Advanced Management Program of the Wharton School of the University of Pennsylvania, She serves on the audit committee of Kamehameha Schools and the boards of 'Ōlelo Community media and Hawai'i Cord Blood Bank. Among her accomplishments while at HEI, Kimura established a corporate partnership with Energy Excelerator to allow startup companies to work collaboratively with the utility on new technological solutions to meet Hawaiʻi's clean energy vision. Dawn Lippert, Energy Excelerator's founder and director, received the 2015 CE3 Award for Advocacy Leadership, the only other Hawaiʻi winner of the C3E Award program since its inception in 2012.
"This award is a testament to Hawaiʻi's leadership in clean energy and the collective efforts of many leaders, innovators and visionaries at Hawaiian Electric, our state and many trusted partners as we pursue 100 percent renewables. I am just a proud representative of our company and Hawaiʻi," said Kimura.
The U.S. Clean Energy Education & Empowerment (C3E) program works to advance the careers and leadership of professional women in the field of clean energy. The program is part of the international C3E initiative within the 24-government Clean Energy Ministerial framework. Learn more: http://cleanenergyministerial.org/OurWork/Initiatives/WomeninCleanEnergy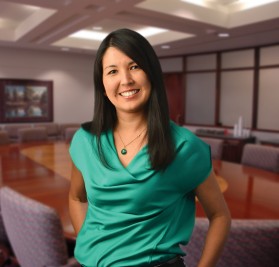 Photo provided by Hawaiian Electric