MKH got past Pearl City 5-4 on Friday in the opening round of the Hawaii Little League District 7 Juniors Championship Tournament played at Pride Field in Kapolei.
MKH (1-0) moves on to the semifinals in the double elimination championship tournament and will face Ewa (1-0) on Saturday at Pride Field with first pitch scheduled for 12 noon. Ewa defeated Waialua 8-4 on Friday to advance.
Pearl City (0-1) drops into the losers bracket and will take on Waialua (0-1) on Saturday at Pride field with first pitch scheduled for 3:00pm.
GO PC!
2016 Pearl City Juniors Tournament Team
Mikah Acoaili * Evan Brown * Brayden Bustamante-Kahale * Dylan Derego


Joel Gauer * Chasen Goshi * Brandon Nakata * Noah Ogasawara * Cade Phillips


Devon Smith * Shaden Yamura * Sheldon Yamura * Ethan Yonamine


Manager – Wendell Goshi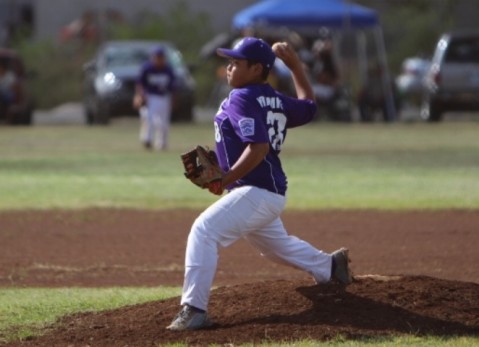 Photo by Barry Villamil | barry@mypearlcity.com
Ethan Yonamine got the start for Pearl City. Yonamine is pictured

on the mound in the bottom of the first inning against MKH.