With a very heavy heart, I would like to send my prayers to my friend Mark Takai and his wonderful wife Sami, children Matthew and Kaila, and the entire Takai ohana. Mark left us on Wednesday, but is watching down as we pay our respects and gratitude to his life, legacy, and love for family, friends, colleagues and our Pearl City community.
I have been extremely fortunate for the opportunity to work closely with Mark in our Pearl City and Aiea communities through the years on projects that truly benefited our residents while keeping us safe and secure as well as addressing and answering the communities concerns. Mark was always there for the residents he served in office as a State Representative and U.S. Representative in Congress.
I will cherish our friendship and good times together. I could call Mark's cell phone at any time and he would always answer my call.
Rest in Peace Mark. May God Bless you.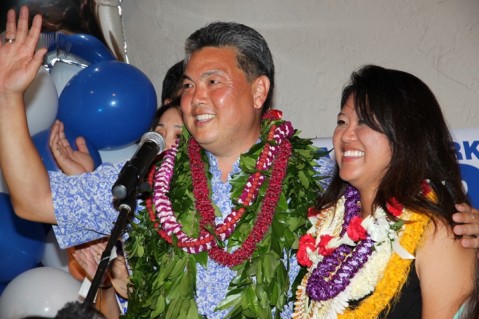 MyPearlCity.com | barry@mypearlcity.com
Mark and Sami Takai are pictured thanking Takai supporters during
his victory speech on primary election night in September of 2014.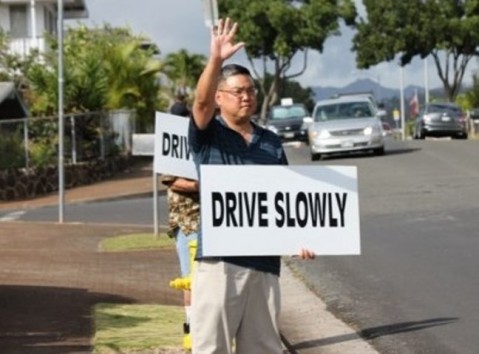 MyPearlCity.com | barry@mypearlcity.com
Mark was a champion in bringing awareness to traffic safety in our community.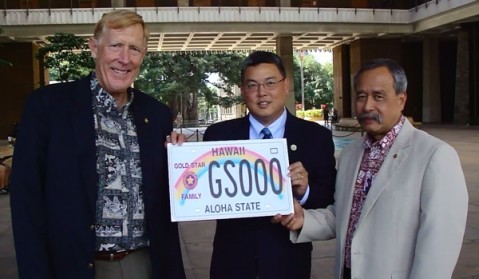 MyPearlCity.com | barry@mypearlcity.com
Representative K. Mark Takai (D-Aiea, Pearl City) introduced House Bill 1
in February, 2011 that would create a special Gold Star Family License
Plate for families of fallen soldiers who lost their lives in combat.
"The Gold Star not only represents the selfless sacrifice made by the deceased, but

was intended to give their family a measure of pride and consolation," Takai commented.

Photo: U.S. Army Colonel (ret.) David Brostrom (left), Representative K. Mark Takai (center)
and Vietnam Veteran Allen K. Hoe take a photo with a design of the Gold Star Family
License Plate at the Hawaii State Capitol in 2011.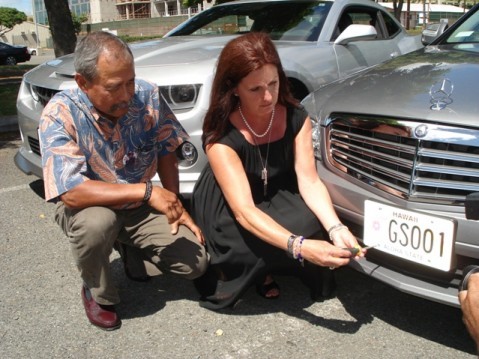 Photo courtesy of Mark Takai
Allen Hoe looks on as Mary Jo Brostrom affixes the first Hawaii Gold Star
family license plate numbered GS001, to her vehicle in October of 2011.
Both Hoe and Brostrom lost their sons in battle in the Middle East.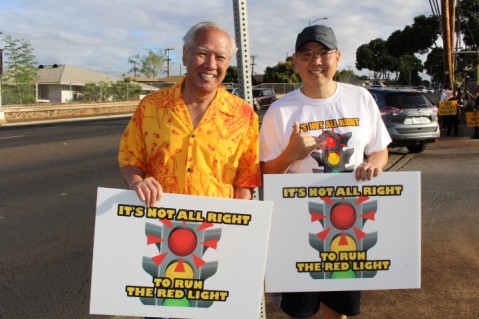 MyPearlCity.com | barry@mypearlcity.com
Mark found the energy during a break from Congress to participate at the "It's Not All Right

To Run The Light" Traffic Safety Awareness Campaign Sign Waving Event on April 7, 2016

at Pearl City Highlands Elementary School (PEACHES). Mark is pictured with State
Representative Gregg Takayama fronting PEACHES on Waimano Home Road.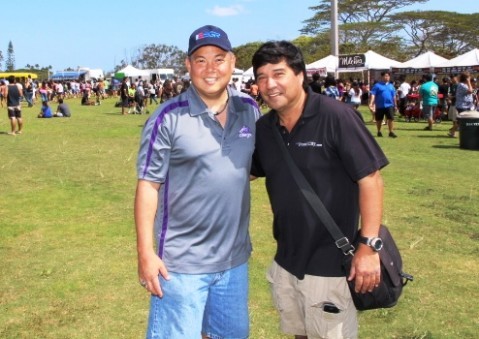 MyPearlCity.com | barry@mypearlcity.com
Mahalo Mark for your friendship and dedication to our Pearl City community.