2016 Pacific Southwest Champion Hawaii Diamonds are a day away from their 2016 Cal Ripken 10 Year Old World Series opener on Saturday in Palm Beach Gardens, Florida.
The Hawaii Diamonds looked impressive in championship tournament play this summer capturing both the 2016 Hawaii Cal Ripken 10U State Championship and the 2016 Cal Ripken 10U Pacific Southwest Regional Championship played in Rohnert Park, CA.
This weekends Hawaii Diamonds tournament schedule:



Saturday, August 6

11:00am EST

Southeast vs. Pacific Southwest (Hawaii Diamonds)

Sunday, August 7

6:30am EST

Pacific Southwest vs. Ohio Valley

Thursday, August 5, 2016 Results:
(Host) Palm Beach Gardens 13 Ohio Valley 1
The Hawaii Diamonds 10U roster:
#1 Kaiden Sonoda-Fukumoto
#2 Cody Branco
#3 Shonty Passi
#4 Eddie Ogasawara
#6 Rylan Nakamura,
#7 Connor Dempsey
#9 Trent Nagamine
#13 Skyler Unebasami
#16 Mariah Antoque
#18 Ridge Choy
#24 Trey Hino
#34 Caleb Lauifi
Coaches:
Nathan "Homey " Numata (manager)
Blayne "Hao" Kamahiai (coach)
Scott Hino (coach
GO DIAMONDS!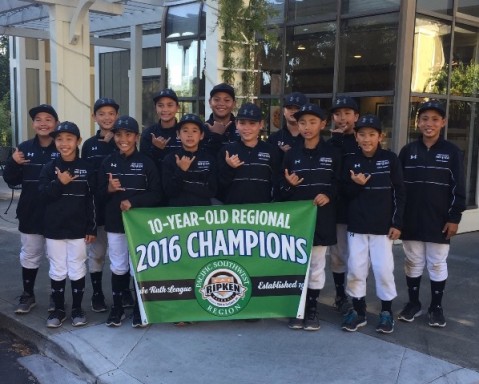 Photo courtesy of Ron Nagamine