The Cal Ripken 10U World Series opener between Pacific Southwest (Hawaii Diamonds) and Ohio Valley was suspended on Sunday in the sixth inning due to lightning. Pacific Southwest was leading Ohio Valley 10-6 at the time of the suspension.
Shonty Passi got the start for the Pacific Southwest pitching 3 1/3 innings. Skyler Unebasami picked up four hits to the lead Pacific Southwest at the plate. Pacific Southwest bats pounded out 15 hits.
Pacific Southwest opened the top of the first inning scoring five runs to take a 5-0 lead. Ohio Valley stormed back with fours in the bottom of the inning. Ohio Valley tied the game at 5-5 in the bottom the fourth inning. Both teams traded runs in the fifth inning. Entering the top of the sixth inning with the score tied at 6-6, Pacific Southwest exploded scoring fours to take a 10-6 lead before the game was suspended.
The game is scheduled to resume Monday morning.
GO DIAMONDS!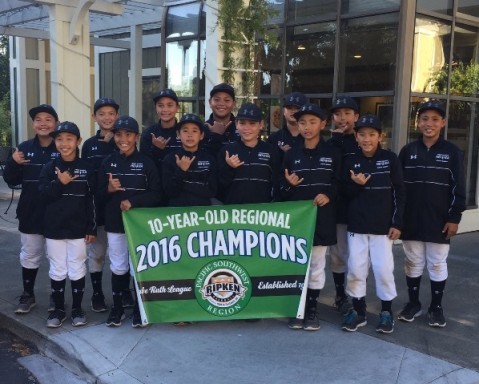 Photo courtesy of Ron Nagamine