I wanted to share this photo of the Pearl City Thunder after their semifinal victory over Sarasota, Florida at the Babe Ruth 13 year old World Series Championship Tournament in Ottumwa, Iowa. on Wednesday.
Thank you to Leina Yamaguchi who is in Ottumwa and sent back this photo of the Thunder along with bat girl, Sammie and bat boy, Aiden – both from Ottumwa, Iowa, after the Thunder's semifinal win over Sarasota. Leina's son Michael plays on the amazing Pearl City Thunder World Series team.
The Thunder are currently battling Mifflin County for the World Series Championship. The championship began at 1:00pm HST.
GO THUNDER!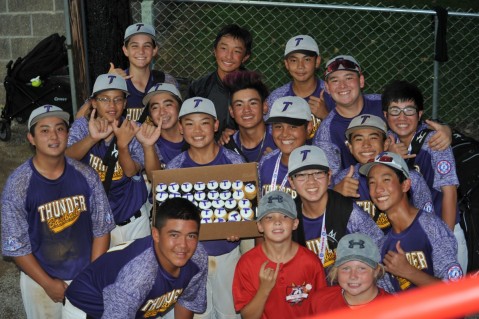 Photo courtesy of Leina Yamaguchi