Armed Services YMCA:
Armed Services YMCA has received a generous $12,000 grant from the Hawaiian Electric Companies in support of the Early Learning Readiness (ELR) program. The ELR program serves toddlers and preschoolers providing the educational structure for these young children to acquire the cognitive, physical, social, and emotional skills necessary for future learning, and to prevent these military dependent children from falling behind academically in elementary school and beyond.
"The ELR program equips caregivers with resources that enable them to be their child's first teacher and is specifically designed to serve young military families who are new to parenting and far from home, family and support. Many of these families have recently been stationed in Hawaiʻi , and this program provides a high quality early learning environment, while providing parents with the support network to manage the stresses associated with military life," said Laurie Moore, Armed Services YMCA Executive Director.
Participation in the ELR program ensures that children develop the skills necessary to successfully transition to one of Hawaii's preschools or kindergarten programs, not only knowing their letters and numbers, but with competency in social skills. Through the ELR program, caregivers learn to teach their own children as they participate alongside them.
The financial investment provided by Hawaiian Electric Companies will be used to purchase developmentally appropriate furnishings and curriculum, which will enhance teaching by further providing ELR instructors with research-based strategies and curriculum resources. "We are so thankful for the investment that the Hawaiian Electric Companies has provided. This will enable ASYMCA of Honolulu to continue providing outstanding early childhood programs for the families of our young men and women who serve our country," added Moore.
"We are deeply appreciative of the men and women of the armed services for their valor and service to Hawaiʻi and the nation, and to their families who sacrifice so much," said Ron Cox, Hawaiian Electric vice president – power supply. "It is gratifying to hear that our donation will help enhance the preschool learning environment at ASYMCA sites so young military families stationed in Hawaiʻi can raise their children with confidence while they serve their country."
Armed Services YMCA of Honolulu focuses programs and services in the areas of education and child care; financial support and assistance; and services that reduce military members and families' feelings of isolation and loneliness. As a private non-profit organization serving Hawaiʻi's military community since 1917, ASYMCA has touched more military lives than any other organization in Hawaii. Please contact the Armed Services YMCA for more information at (808) 473-3398 or visit the website at www.asymcahi.org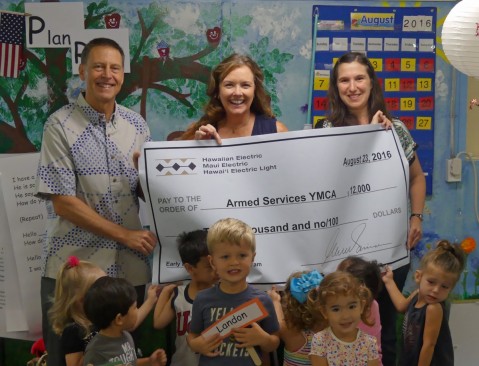 Landon Romero joins other children in thanking Hawaiian Electric and Ron Cox for
their generous grant of $12,000 in support of the Early Learning Readiness Program
Standing L to R: Ron Cox, Hawaiian Electric, VP Power Supply; Laurie Moore,
Executive Director, ASYMCA Honolulu; Chelsey Kline, ELR Facilitator, ASYMCA