Congratulations to Mike Ishihara who was presented an Honorary Certificate from Honolulu City Councilman Brandon Elefante on Wednesday at Honolulu Hale that recognized her retirement from the Department of Education in July of 2016. The Honorary Certificate was presented to Ms. Ishihara in front of the full City Council, former and current Pearl City High School administration, faculty, and students. as well as family and friends.
Mike was honored for her outstanding service as a teacher and student activities coordinator that spanned over 53 years in the Department of Education, 45 of those years at PCHS. Mike was the last of the original staff at Pearl City High School that opened the PCHS campus back in 1971.
Former PCHS Principal Gerald Suyama joined current PCHS Principal Joseph Halfmann to offer their congratulations to Mike on her special day at Honolulu Hale.
I would like to thank Councilman Elefante, his staff, PCHS administration, and Mike for inviting me to take part in the very special Honorary Certificate presentation ceremony that truly honored Mike and her amazing PCHS legacy.
Aloha Mike!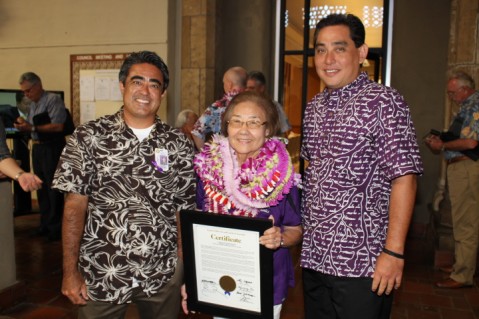 Photo by Barry Villamil | barry@mypearlcity.com
Mike Ishihara is pictured holding her Honorary Certificate from the Honolulu City Council along with

Kyle Miyashiro (L) who succeeded Mike as the PCHS SAC, and PCHS Athletic Director Reid Shigemasa.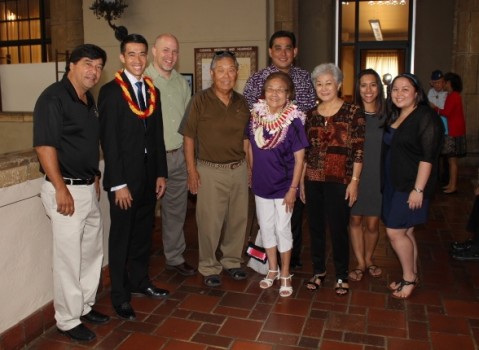 Photo by Mr. Abe, retired PCHS faculty member

Mike is pictured with (L-R) Barry Villamil, Councilman Brandon Elefante, PCHS Principal
Joseph Halfmann, retired PCHS Principal Gerald Suyama, PCHS Athletic Director
Reid Shigemasa, former SASA of PCHS Jenny Watanabe, and PCHS students.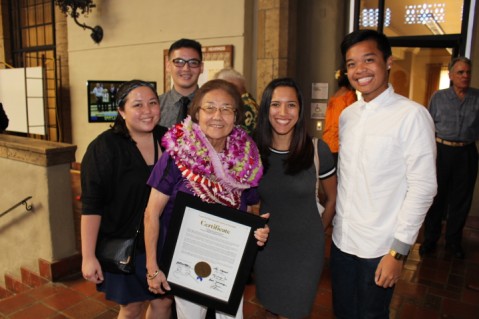 Photo by Barry Villamil | barry@mypearlcity.com
Ms. Mike Ishihara is pictured with current and former PCHS students at

Honolulu Hale on Wednesday. Ms. Ishihara was the heart and soul for thousands

of Pearl City High School students in her 45 year career at the PCHS campus.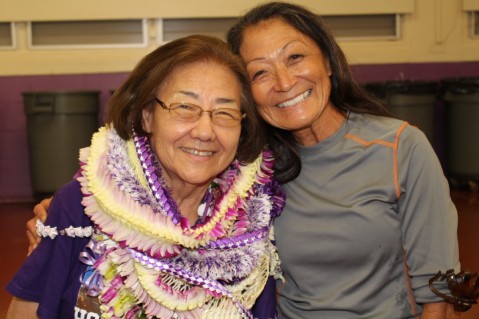 Photo by Barry Villamil | barry@mypearlcity.com
Mike is pictured with Mrs. Kay Bicoy who became the longest ranking tenured PCHS faculty

member upon Mike's retirement in July. Mrs. Bicoy began her teaching career at PCHS in 1972,

one year after the Mike began her career that opened the PCHS campus in 1971.