The Pearl City Chargers took over sole possession of first place in the Oahu Interscholastic Division 2 Varsity Football league standings with a perfect 4-0 record after defeating the previously unbeaten Marauders (2-1) 21-7 in a showdown on Saturday, September 10 at Aiea High School. The win also brought how the Pearl City / Waipahu Cup after a four year absence.

Junior Charger back up QB Isaiah Asinsin was called into action from his starting wide receiver position to replace starter Kekainalu Simon who was sat out Saturday's game.
Asinsin looked comfortable behind center while leading the Chargers offense completing 6 of 13 passes for 47 yards and one touchdown through the air, and also picked up 66 yards on 7 carries with one touchdown.
Pearl City's Andre Carter gained 47 yards on 6 carries along with Charles Freitas who pounded out 38 yards on 10 carries. Daniel Sarajina caught 3 passes for 37 yards which included the Chargers first touchdown on a strike from Isaiah Asinsin to Sarajina at 7:25 of the first quarter.
Brody Padilla (INT) and Carson Henderson (Fumble Recovery) had solid performances on the Chargers defense.
Waipahu QB Braden Amorozo completed 7 of 32 for 122 yards, one touchdown, and one INT. Alfred Failauga led the Marauders ground game gaining 68 yards on 19 carries.
The Chargers have a couple weeks off before returning to action against McKinley at Roosevelt on Saturday, October 1.
GO CHARGERS!
PEARL CITY CHARGERS
2016 PEARL CITY / WAIPAHU CUP CHAMPIONS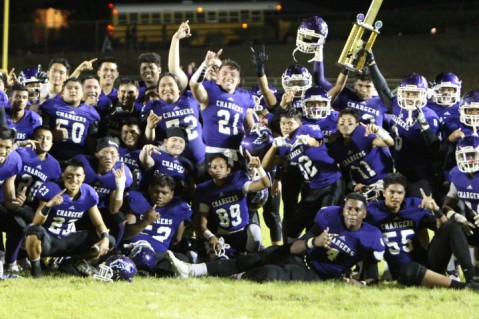 Photo by Barry Villamil | barry@mypearlcity.com