Pearl City came from behind to defeat visiting Nanakuli 23-25, 25-23, 15-12 in Oahu Interscholastic Association Western Division 1 Girls Varsity Volleyball played last night at Pearl City High School.
The Lady Chargers fell behind early in the first set, but stormed back losing the set by 2 points, 23-25. Set two and three went to the Lady Chargers who battled through a hard fought effort by the Lady Golden Hawks that ended in match point, 15-12 in set three.
Pearl City improved to 2-6 while Nanakuli moved to 3-5 in league play. The Lady Chargers host Radford on Thursday, September 29. Both the junior varsity and varsity matches will be televised live on OC 16.
The Lady Chargers White Division team swept to a 2-0 victory while the Lady Chargers Junior Varsity squad dropped a close match to the Lady Golden Hawks in three sets 1-2.
The Lady Chargers close out the regular season on Tuesday, October 4 against Waipahu. They will also bid Aloha to their Senior Class in a very special and traditional Lady Chargers Senior Night celebration.
GO LADY CHARGERS!
HEART & SOUL
LADY CHARGERS IN DA HOUSE!!!!


Photo by Barry Villamil | [email protected]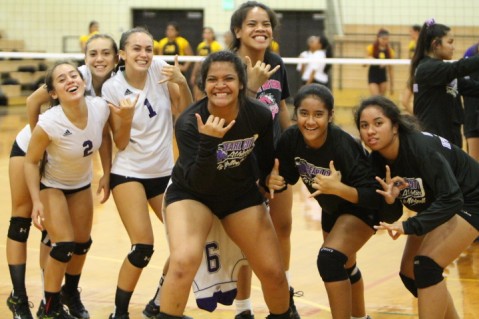 Photo by Barry Villamil | [email protected]