Tomorrow night, the Pearl City Chargers will play at home for the first time this season on a brand new turf field that has been years in the making, but is finally here. The Chargers will host Kaimuki in Oahu Interscholastic Association Division 2 Football Junior Varsity and Varsity contests.
What makes the night even more special is both the Junior Varsity and Varsity games will be played between the Chargers Homecoming and Senior Night celebrations. It's an exciting time to be a Charger and tomorrow night will be celebrated by all. As a PCHS alumni, I couldn't be happier to see and feel the pride this afternoon as I walked with the Charger players and coaching staff on to the new field surface for a late afternoon photo shoot.
As the amazing PCHS Charger Band was just about wrapping up practice on the field, it made me feel good to see the band members on a clean, new turf surface that in less than 24 hours will be playing and performing their hearts out as they lead the Chargers attack pulse to victory.
Chargers Head Coach Robin Kami is excited for his Charger players and coaches to play in the PCHS football programs first home game on the new turf at Edwin "Bino" Neves Stadium. He is also grateful that his seniors will have the opportunity to play the last regular season home game of their careers on the new field. 24 seniors will say Aloha Friday night. As a PCHS alumni, and with his alumni connections, Coach Kami knows tomorrow night will be a very exciting time for all PCHS alumni and supporters.
"I'm very excited, it's like when you open a present on Christmas morning, that's how the kids felt," said Coach Kami. "They came out here excited. Our JV and Varsity practiced out here on Monday and they were jumping for joy, tumbling on the grass. It was beautiful, nice to see that. It's also a big thing for the seniors. They didn't think they were going to play any games on this field and now they are going to play at least one game for Homecoming and also celebrate Senior Night. It will be very nice for them. For me, I'm an alumni myself and we had so much text and emails from the alumni and the supporters that are so excited to come out here and see the new field tomorrow night."
Me too!
GO CHARGERS!
Pearl City Chargers Varsity Football Head Coach Robin Kami

Photo by Barry Villamil | [email protected]
2016 Pearl City Chargers Varsity Football Team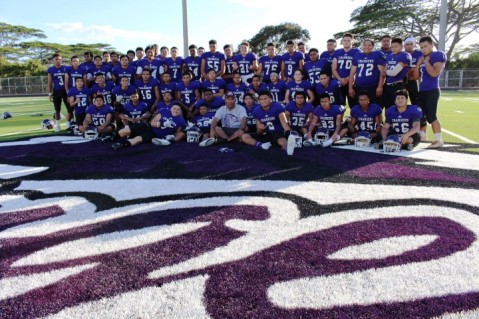 Photo by Barry Villamil | [email protected]
2016 Pearl City Chargers Senior Class
Joe Maneafaiga, Charles Freitas, Brody Padilla, Kekainalu Simon, Kasen Aiwohi
Kian Yoshida, Kasey Villalon, CJ Agbayani, Patrick Nunez, Elijah Parrish, Robert Yamasaki
Dallas Agoto, Chason Kihewa, Brayden Balisacan, Jordan Sanpei, Nawailohi Pascua
Carson Hernandez, Zachary Owens, Netzer Pohiva, Kona Respicio, Jasen Pong,
Daniel Sarajina, Brandon Lin, Kramer Estoesta
(Missing from photo: Dallas Agoto, Kramer Estoesta)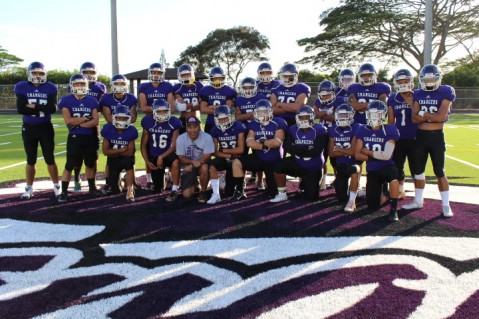 Photo by Barry Villamil | [email protected]
(Missing from photo: Dallas Agoto, Kramer Estoesta)