OIA BOWLING INDIVIDUAL & TEAM CHAMPIONSHIPS
@ SCHOFIELD
THURSDAY, OCTOBER 20
8:30AM
OIA D2 JUNIOR VARSITY FOOTBALL CHAMPIONSHIP SEMIFINALS
PEARL CITY VS. KALAHEO @ KAISER HIGH SCHOOL
FRIDAY, OCTOBER 21
5:00PM
OIA D2 VARSITY FOOTBALL CHAMPIONSHIP SEMIFINALS
PEARL CITY VS. WAIPAHU @ AIEA HIGH SCHOOL
FRIDAY, OCTOBER 21
7:30PM
OIA JV SOFTBALL
PEARL CITY @ CAMPBELL
SATURDAY, OCTOBER 22
3:00PM
OIA VARSITY CROSS COUNTRY TEAM & INDIVIDUAL CHAMPIONSHIPS
@ CENTRAL OAHU REGIONAL PARK
SATURDAY, OCTOBER 22
3:00PM
GO CHARGERS!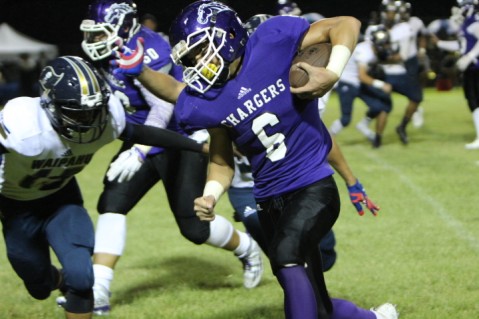 MyPearlCity.com File Photo | barry@mypearlcity.com
Pearl City's Brody Padilla picks up yards against Waipahu during the Chargers 21-7

regular season win over the Marauders on Friday, September 10, 2016 at Aiea High

School. The Chargers and Marauders return to Aiea High School this Friday, October 21

in the OIA D2 semifinals with the winner advancing to next week's OIA D2 Championship

title game at Aloha Stadium against the winner of the Kaimuki / Waialua semifinal match up.