Pearl City Charger Boys, 7X State Bowling Champions! Record Breakers, History makers!

Pearl City rolled their way to a record 7th Billy Tees / HHSAA Hawaii State Boys Bowling Team Championship in row on Friday at Leeward Bowl in Pearl City. The Chargers topped the Mililani Trojans 7945 – 7839 after 3 rounds and 9 games in the 2-day championship tournament to win the team championship.
Kristopher Yadao and Imi Nakamara finished 1 & 2 in individual state championship standings. Yadao swept the OIA West, OIA, and State individual and team championships for the second year in a row (2015, 2016).
Yadao rolled to a 3 round, 9 game total pin count of 1875 to capture the individual state championship. Nakamura rolled a total pin count of 1744 for a close second place finish.
Congratulations to Head Coach James Hayashi and his Charger Boys and supporters for an incredible season and perpetuation of the Pearl City Charger Boys Bowling Program Dynasty and Legacy that lives on!
James Hayashi, Head Coach, Pearl City Chargers
"Today was very special for the kids because they executed well. They struggled the first game but they came back the second game. The oil pattern was different from yesterday. That made a difference. They made the adjustment. They changed ball and moved angles on the lanes. As a team they were good and supported each other. They didn't fall apart after a bad game. They hung in there tough and supported each other. Winning seven championships feels fantastic! Look, I'm getting chills you mentioned that! We had the record last year, and one more year will make it probably harder to break seven years in a row. Kristopher (Yadao) did a heck of a job today and with Imi (Nakamura) as lead off. Imi struggled today but he didn't give up. Kris struggled too in the first game but we made that adjustment. They had to make a little more adjustment because the oil pattern wasn't the same. It was supposed to be European pattern, but lane 20 was dryer than the left side lane 19 and the break point on the 10 board had an oil spot, and if you hit that, the ball just slides. Either you had to stay inside of the 10 board or outside of the 10 board. That's what bowling is all about, is how to make the adjustment when the alley changes.
I want to say thank you to my wife who supported me and did all my computer work, and Yolanda Nakamura who is my statistician, and all the scorers. Also, to all the parents who supported the kids by bringing them to bowling. Thank you to the kids for being disciplined and for being outstanding. Finally, to all the families and Pearl City supporters."
Carrie Hayashi (Wife of Coach Jimmy)

"I'm really proud of him. We've had two sons go through the program. I'm really proud of him and how he's hung in there, and I think he's done a good job with the team. As a parent, there are a lot of things to do, being here to support him now is a lot easier. I enjoy the camaraderie between the parents who come to support them. It's good to give them the head's on how things have gone in the past with tournaments and that kind of stuff. Some of them have no idea, the new parents. It's good to be able to keep them informed on what to do and how things are run."
Kristopher Yadao (Senior)
Back to Back OIA West, OIA, and HHSAA State Bowling Individual & Team Champion
"It was harder last year because my dad wasn't there to coach me. He wasn't there to tell me my mistakes and what wrongs I was doing while I was bowling. This year, it was easier because he was in the back. I could ask him to help. So this year it was a lot easier than last year. The lanes were a lot harder than last year. For example, my game for the third game was really bad from the beginning, but I had go back to ask him what ball to change to and where to throw it and he helped me and I ended up bowling better. I finished with a pretty remotely good set. So I pulled through. This year, we did work better as a team. Mililani was catching up, and we were looking at their scores to figure out what to compete against. That's why we huddled to figure out what we needed to do. In bowling, there's a saying that you have to hold your own. Even if you were to mess up, there's other teammates to back you up. But, because today the lanes were harder, we needed to work together as a team to take back the lead and that's where we pulled through for our 7-PEAT."
Ben Yadao (Kristopher's Dad)

"My son had to execute his shots. I was just the back guy. My son did it all. He had to execute the shots which were hard because these lanes were challenging."
Imi Nakamura (Senior)
4X OIA West, OIA, HHSAA State Bowling Team Champion
"This feels great, this is my fourth state team championship in a row. I felt relaxed today, but the lanes were tough. The pattern wasn't the same as the previous day, but we all made the adjustment. We all came together in the end. We hugged it out. I felt like crying. I've known these guys since I first started bowling. I would like to say thanks to coach. He's confident in our abilities and he always makes the right choices for us. For the bowling program in the future, always try your best and keep the dynasty continuing."
Devin Dela Pena (Junior)
2X OIA West, OIA, HHSAA State Bowling Team Champion
"This feels really good winning our seventh championship in a row. This is my second championship. Today felt good and the adjustments that we had to make as a team felt good. We struggled today in the first game, but we picked it up in the second and third game. We felt relaxed in the end and knew we were going to win. I'm going to miss the seniors a lot. I want to thank my Coach Jimmy, and all the seniors for holding us up, Imi. Kris, Denin, and Shane."
Pearl City Chargers – 2016 Billy Tees / HHSAA Hawaii State Boys Bowling Team Championship

Individual Rankings / Total Pin Count

1 Kristopher Yadao 1875
2 Imi Nakamura 1744
31 Denin Ching 1501
35 Devin Dela Pena 1497
50 Shane Teramoto 1447
58 Chandon Ganiron 1429
74 Cody-Schayne 1345
Carrie and James Hayashi
Heart & Soul of the Pearl City Chargers Championship Boys Bowling Program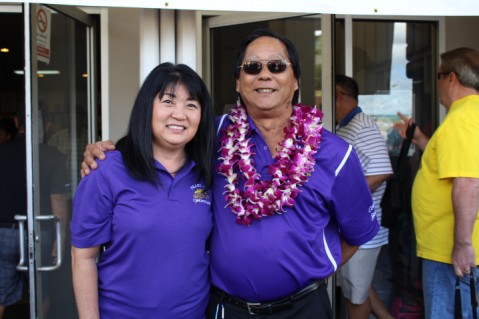 Photo by Barry Villamil | barry@mypearlcity.com
Pearl City Charger Boys
7X State Team Bowling Champions!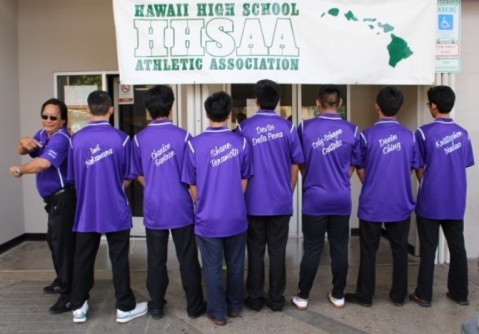 Photo by Barry Villamil | barry@mypearlcity.com
Kristopher Yadao (Senior)
Back to Back OIA West, OIA, and HHSAA State Bowling Individual Champion
4X HHSAA State Bowling Team Champion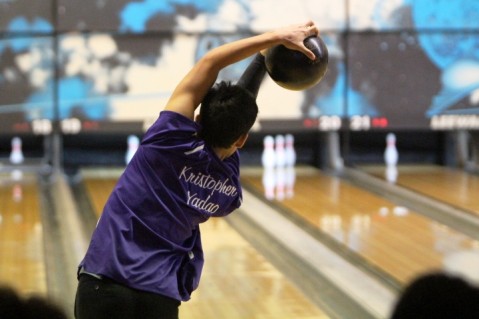 Photo by Barry Villamil | barry@mypearlcity.com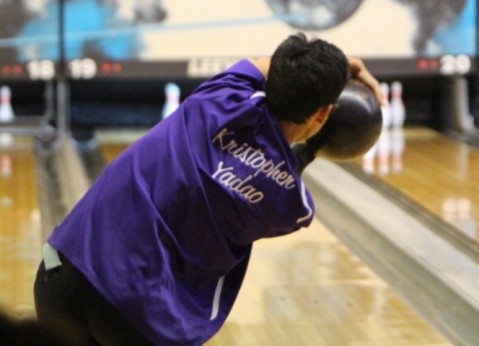 Photo by Barry Villamil | barry@mypearlcity.com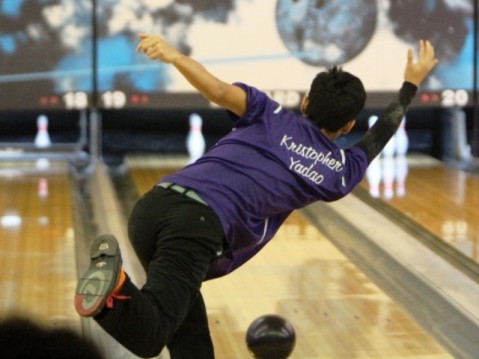 Photo by Barry Villamil | barry@mypearlcity.com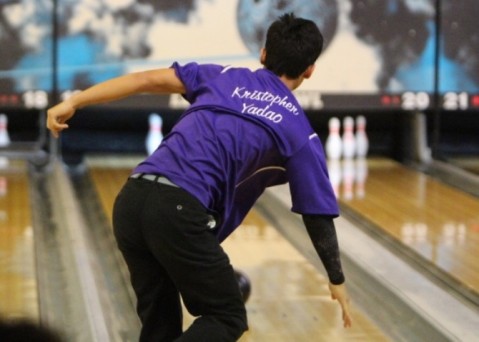 Photo by Barry Villamil | barry@mypearlcity.com