Bank of Hawaii opened their newly renovated, "Branch of Tomorrow" located at the Pearl City Shopping Center this past Saturday, November 12, 2016.
Bank of Hawaii Chairman, President, and CEO, Peter Ho, along with other top Bank of Hawaii executives, joined Pearl City Bank of Hawaii branch manager Lono Kealoha and his staff during the grand opening ceremony that included a traditional Hawaiian blessing and maile lei ceremony by Kahu Sherman Thompson.
The Bank of Hawaii Branch of Tomorrow, Pearl City Shopping Center location is the first of 70 Bank of Hawaii branches to open its doors to the new concept of making banking transactions easier with a more personal, interactive experience between Bank of Hawaii employees and their customers. Bank of Hawaii is preparing to open 30 more Branch of Tomorrow locations soon with the next branch picked for Hawaii Kai.
Peter Ho, Chairman, President, and CEO of Bank of Hawaii
"We were looking for a home to house our first Branch of Tomorrow which is a major, major investment in strategic decisions for the company and Pearl City was a natural for it. It's a market place that we've been in for many, many years. It's a market place that has been so wonderful for Bank of Hawaii so, why not here. We're excited. I know the community has been curious about what to expect here, but it's really about giving our team a better opportunity to serve our customers better, whether it's through convenience and having a safe place to keep your money or to get that first loan or to plan for retirement. That's what we're most excited about. It's a beautiful facility, but really it's all about making sure that our customers and employees are better taken care of.
Ironically as the world moves forward, we become a little less relationship centric, just as the community with social media and the like. Those are powerful tools, but what's important to us is to make sure as we as an organization, and as a bank, are continuing to build those relationships. So part of our concept of thinking with this branch is how do we create more inviting space, and more functional space for people to come together with our team and our customers to do great things and understand each other better and just to be able to create better things in their lives. We have lots of programming with educational seminars and programs that begin with teaching kids to save, and how do I navigate social security for our senior citizens."
Lono Kealoha, Branch Manager, Bank of Hawaii Pearl City
"This is definitely a very exciting day. Definitely for our Bank of Hawaii branches, being that this new branch allows us to better connect to our customers. Instead of us being behind desks, our teller bars are more free and allow us to interact with our customers and assist them with their financial needs. Anywhere in the branch my team can help customers with a transaction. Before, we used to be tied to desk top computers, but now because we have tablets, we are free to roam the branch and actually take customers around the branch to help them with their transactions. This branch is mainly here to assist every generation. Ultimately, each generation has their own banking needs, and with this type of branch we are able accommodate all of their banking needs."
Jill Shimokawa Higa, Senior Executive Vice President, Branch and Community Banking, Bank of Hawaii
"I am so proud, this is my town. I was born and raised here, and to come back after this many decades and to see that Bank of Hawaii has invested its first major transformation here in my hometown in the Pearl City community is absolutely humbling and exciting for the community. My parents still visit this branch, and this is, so to speak, their branch. So it feels so great that parents and grandparents and aunties and uncles from the Pearl City community can now enjoy the transformations with regard to products and services. One of the things that I wanted to say is that it seems to be perceived that the new way to do transactions is automation, but there's real people in the new branch that want to really connect with the customer, to really help them with their financial needs . Lono Kealoha who is our Pearl City branch manager and Lisa Revilla who is our service manager are very excited to see everyone come and visit the branch."
Wayne Hamano, Executive, Branch and Commercial Banking, Bank of Hawaii
"We are excited about this new style of banking with all new technology. We're anxious to test pilot this program and see how this thing goes. The staff has been training and we think it will be terrific. We want to come out from behind the desk and engage with the people. That's why the whole choreography of training is important. We want to be more than just transaction people. The new branch will be a good addition to the Pearl City community."
Newly designed interior space:
BankLanai—an enclosed front lobby area accessible 24 hours a day, 7 days a week with enhanced ATM features, such as easy deposit and Cardless Cash. Cardless Cash is a trademark of FIS.
Tomorrow Center—customers can receive assistance with simple banking needs and technology demonstrations.
Teller Bar—an open-floor concept allows tellers to provide a more personal experience to conduct everyday banking transactions.
Aloha Room—customers can meet with a BOH team member for more complex banking needs or financial advice.
Pili Room—customers can discuss advanced banking needs in a more private environment.
Our Pearl City community and the Pearl City Shopping Center is very proud and appreciative to be the first to experience the innovative and creative banking opportunities that the Bank of Hawaii "Branch of Tomorrow" delivers to its customers.
I would like to thank Mr. Peter Ho for attending the grand opening of Bank of Hawaii's "Branch of Tomorrow" at the Pearl City Shopping Center. The Pearl City Shopping Center is truly honored to be chosen to represent the first "Branch of Tomorrow" format out of 70 Bank of Hawaii locations throughout the state of Hawaii and the Pacific.
Our Pearl City community and its ohana are very special. With a far reaching vision for the future, the people and businesses who call Pearl City home, care and support one another while bettering the lives of a great community.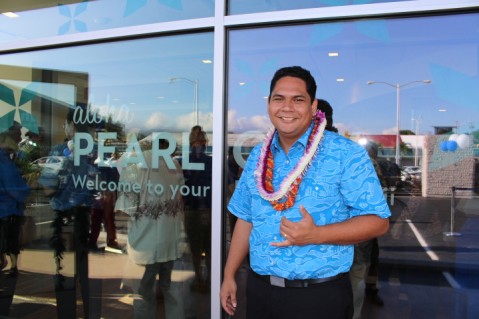 Photo by Barry Villamil | barry@mypearlcity.com
Lono Kealoha, Bank of Hawaii Pearl City Branch Manager stands proudly in front of his
newly blessed, and open "Branch of Tomorrow" located at the Pearl City Shopping Center.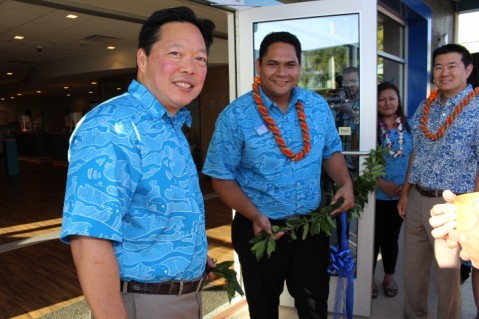 Photo by Barry Villamil | barry@mypearlcity.com
(L-R) Peter Ho, Chairman, President, and CEO of Bank of Hawaii, Lono Kealoha, Branch Manager, Bank

of Hawaii Pearl City, and Kevin Sakamoto, Executive Vice President Branch Banking, Bank of Hawaii,

participated in untying the maile lei during the blessing ceremony performed by Kahu Sherman Thompson.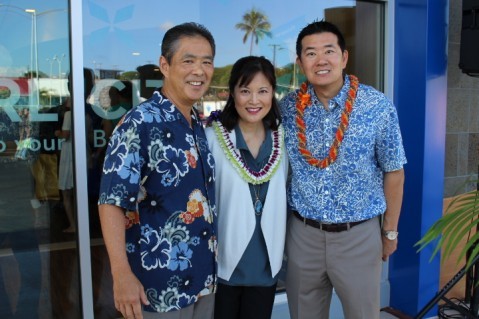 Photo by Barry Villamil | barry@mypearlcity.com
Bank of Hawaii Executives (L-R), Wayne Hamano, Jill Shimokawa Higa (Pearl City High
School Alumni), and Kevin Sakamoto participated in Saturday's Pearl City Bank of Hawaii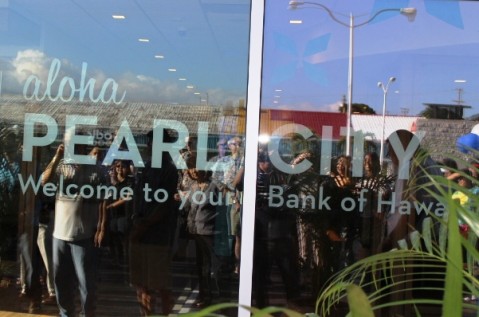 Photo by Barry Villamil | barry@mypearlcity.com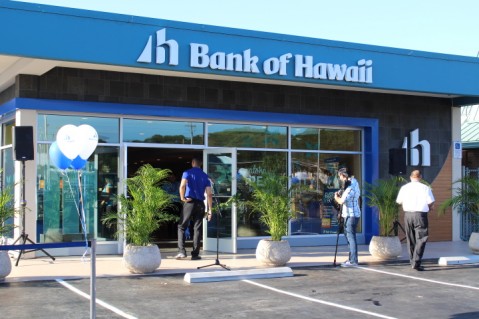 Photo by Barry Villamil | barry@mypearlcity.com