Congratulations to former Pearl City Charger QB Jordan Ta'amu who has been offered football scholarships by some of the nation's top D-I football programs after completing two very successful seasons as the signal caller for the New Mexico Military Institute
Jordan was a highly decorated Charger football player under Head Coach Robin Kami after graduating from Pearl City High School in 2015. Jordan was named the Hawaii Division 2 Offensive Player of the Year in 2014 and led his team to the D2 championship title games in both 2013 and 2014.
Coming out of high school, Jordan chose the Junior College route and the decision is about to pay off as he enters his junior year with offers so far from New Mexico, Missippissi, Minnesota and Eastern Kentucky. Being recently named as the Southwest Junior College Conference Player of the Year, as well as being ranked the nation's top junior college QB by GridironRR, has bumped Jordan's stock from the junior college level to D-1 with the possibility of being the starting QB for a storied football programs like Ole Miss. That is truly amazing! What an accomplishment!
Jordan, along with six other Charger football players from the PCHS Class of 2015, earned their way to play college ball on the mainland. Their success on the football field and in the classroom, as well as in the Pearl City community put a stamp on Coach Kami's philosophy of being a well-rounded student athlete that can lead you to the next level while ultimately earn a college degree.
Seven Chargers well prepared for college football on the mainland
http://www.mypearlcity.com/story/sports/seven-chargers-well-prepared-college-football-mainland
MyPearlCity.com would like to wish Jordan much success as he builds upon his outstanding collegiate football career and legacy while representing CHARGER PRIDE! and the people of his home state of Hawaii.
Congratulations to Jordan and his Ta'amu Ohana!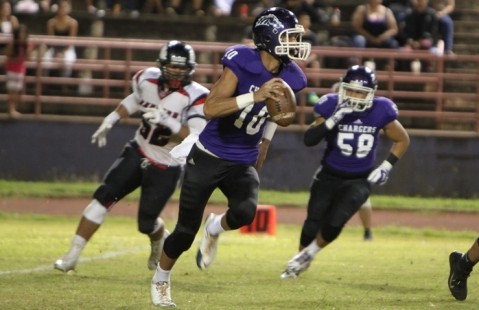 MyPearlCity.com File Photo | barry@mypearlcity.com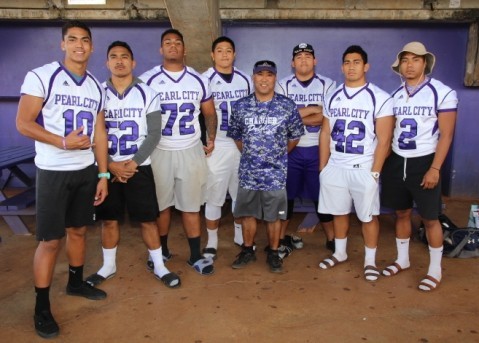 MyPearlCity.com File Photo | barry@mypearlcity.com
Jordan is pictured with Coach Kami and his Chargers teammates from the PCHS Class of
2015 who were preparing to head off to play college football on the mainland upon graduation.
(From L-R) Jordan Taamu, Petro Mataia,Kordell Vaa, Garette Kanamu,
Pjay Solomon, Zebadiah Selu and Ikaika Tom