Submitted by Hawaian Electric:
As one of the company's "125 Acts of Aloha" commemorating its 125th anniversary, Hawaiian Electric has donated $10,000 to Special Olympics Hawai'i, the nonprofit organization that provides year-round sports training and athletic competition for children and adults with intellectual disabilities. Tayne Sekimura, Hawaiian Electric senior vice president/chief financial officer, presented the check to the organization during a Special Olympics Young Athlete event at Kaiser High School.
"Every person should have the opportunity to learn, enjoy, and benefit from participation in individual and team sports," said Sekimura, an avid runner who recently joined the Special Olympics Hawai'i board in April.
"The Special Olympics program was founded on a firm belief that there are no limits to the capabilities of people with intellectual challenges. They can participate in a wide variety of recreational experiences and benefit from it as well. Our company applauds the organization in Hawai'i for providing these athletes with the proper training and skills to grow their confidence, and ultimately, to shine."
"We are extremely grateful to to be one of Hawaiian Electric's 125 Actos of Aloha for their 125th anniversary celebration" said Nancy Bottelo, Special Olympics Hawai'i president and CEO. "It is through the generosity of corporations like Hawaiian Electric that we are able to continue to transform the lives of children and adults with intellectual disabilities and their families."
About Special Olympics Hawai'i
Special Olympics unleashes the human spirit through the transformative power and joy of sports every day in Hawai'i. Through work in sports, health education and community building, Special Olympics is addressing inactivity, injustice, intolerance and social isolation by encouraging and empowering people with intellectual disabilities which leads to a more welcoming and inclusive society.
Founded in 1968 by Eunice Kennedy Shriver, Special Olympics Hawai'i has grown from a handful of athletes to more than 5,000 participants across the state. With the support of more than 9.600 coaches and volunteers, Special Olympics is able to deliver 10 Olympic-type sports and more than 45 competitions throughout the year. There is never a fee for any athlete or family to participate in Special Olympics programs. For more information on Special Olympics Hawai'I, please visit www.sohawaii.org.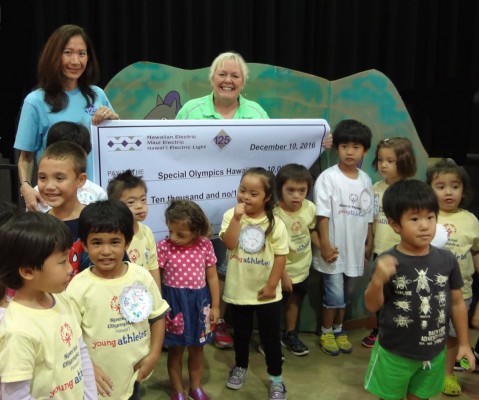 Photo by Hawaiian Electric
Hawaiian Electric's Tayne Sekimura presents a $10,000 check to Nancy Bottelo

of Special Olympics Hawaii during a youth athlete event. The donation is one of the

company's 125 Acts of Aloha commemorating Hawaiian Electric's 125th anniversary.