Mikayla Abe won the Girls 122 lbs. Championship title (D: 3-2), and Lady Charger teammate Jennie Fuamatu captured the 184 lbs. Championship title (Fall: 2:40) while Makoa Cooper brought home the Boys 152 lbs. Championship title (MD: 16-5) at the Hawaii Wrestling Officials Association 2016 Scholarship Tournament held on Friday, December 16 and Saturday, December 17, 2016 at Leilehua High School.
Top Charger Individual Results:
132 lbs. 4th Charles Freitas
152 lbs. 1st Makoa Cooper
170 lbs. 2nd Kasey Kikuyama
112 lbs. 6th Makana Cooper
127 lbs. 5th Chanel Hunter
155 lbs. 3rd Jacqueline Fuamatu
184 lbs. 1st Jennie Fuamatu
184 lbs. 3rd Michelle Tanuvasa
Congratulations! Go Chargers!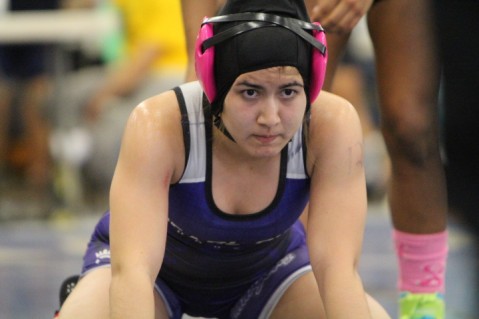 MyPearlCity.com File Photo | barry@mypearlcity.com
Mikayla Abe, Hawaii Wrestling Officials Association

2016 Scholarship Tournament Girls 122 lbs. Champion.