The Lady Chargers totally dominated the Waialua Lady Bulldogs 10-0 in Oahu Interscholastic Association Western Division 1 Girls Varsity Soccer played on Thursday, December 29, 2016 at the Waipio Peninsula Soccer Complex in Waipahu.
Randi Fontes knocked in three goals to lead the Lady Chargers. It was Randi's second 3-goal game in a row as Pearl City improved to 5-2 in league play while Waialua fell to 1-5-1.
Goals:
Pearl City – Randi Fontes 3, Daelenn Tokunaga 2,
Sunshine Fontes 2, Reyann Lee 2, Hunter Malaki 1
GO LADY CHARGERS!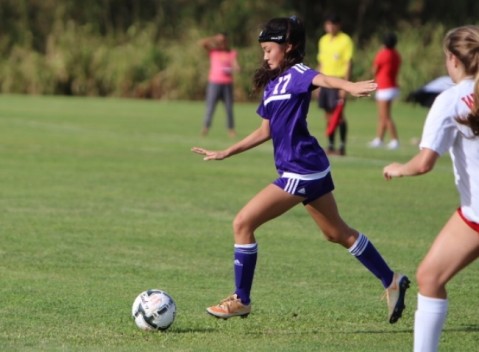 Photo by Barry Villamil | barry@mypearlcity.com
Reyann Lee scored two goals for the Lady Chargers. Reyann

is pictured taking a shot on goal in the first half against Waialua.