I would like to wish you and yours a very special and prosperous New Year! I have to say that last night, at the stroke of midnight, I witnessed the most impressive display of aerial fireworks that I have ever seen. For a few minutes, through the amazement of exploding color and light sent high into the night, the sounds and colors welcomed in 2017. Laced with energy and optimism as you looked up, HOPE for a great start to a new year was in the air.
I would like to share with you my thoughts that I pray will inspire HOPE while bringing light to those who felt despair as 2016 joined its place in time. Together, with Faith in hand, 2017 will deliver a better life to all who believe in navigating a path of goodness in the spirit of HOPE.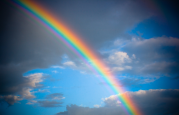 Hope upon a Rainbows glow
In a dream, I followed the man in front of me,
Goodness on the left, goodness on the right.
A magical place to be,
purity in sight, purity in flight.
Unto the night and upon a new day,
a rainbows glow took my breath away.
A beautiful vision of HOPE within my reach touched my soul,
guided by the messenger of Peace, and the greatest story ever told.
Thoughts and words inspired by faith and love,
shared with my family and friends and the man above.
Day one of a new year is all aglow, 364 and an eternity to go.
Happy New Year!