Former Pearl City Chargers, Robi Kami and Jordan Taamu upon graduation in 2015, left behind legacies that were built from a foundation of hard work in the classroom, playing field and community that continues to inspire Excellence with Honor and Charger Pride, two key components to achieving success beyond the halls of Pearl City High School. Both Robi (softball) and Jordan (football) made the jump from highly decorated high school athletic careers, to junior college ball where they once again excelled and are being rewarded and elevated to the Division I level in 2017.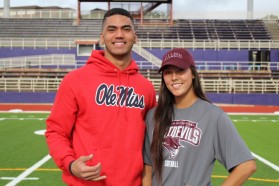 Photo by Barry Villamil | b arry@mypearlcity.com
Jordan Taamu and Robi Kami

Robi moves up from Midland Junior College in Texas to play on scholarship for Texas A &M International as a member of the DUSTDEVILS softball team as a junior listed on the official roster for 2017 as a catcher/outfielder.
Jordan takes the leap from the New Mexico Military Institute where he earned the distinction of being voted as the #1 ranked QB in JUCO for 2016, to a full ride scholarship to the University of Mississippi where he will compete in 2017 for the starting QB position on the storied Ole Miss football team from the Southeastern Conference.
I had the opportunity to sit down and catch up with Robi, Jordan and Pearl City Chargers Head Football Coach Robin Kami, (Robi's dad) last week Friday on the new football field at Pearl City High School's Edwin "Bino" Neves Stadium. It was really nice to see how much the two former Chargers have matured and carry themselves at an admired level of humbleness and class along with a deep appreciation from where they come from and for those they care about and care about them.
Robi and Jordan were blessed for being guided by Coach Kami while at PCHS who stressed the importance of attaining a college degree by capitalizing on their athletic talents and abilities to fund their college careers. Both are half way there and plan to major in business and criminal justice.
"Congratulations to both of them," said Coach Kami. "They both put in the hard work and sacrifice to get where they are today. One day, you won't be playing athletics so you have to have a plan B. So make sure you get that paper (degree) to fall back on. I always say no matter what division you play in high school or college, if you are a competitor they will find you, but the main thing is you have good academics and attitude because it's priceless. Make sure you represent your family, school (Chargers), and the state of Hawaii with Aloha."
Robi Kami
"It's just a blessing being able to go and play college ball and coming from Pearl City. People didn't really expect much from me. Making a name for myself is super accomplishing and to show others that it's possible, especially coming from a JC and then moving on to the D1 level. It's possible, you just gotta work hard. It was kind of hard in the beginning being away from the islands but you meet new people and gain experiences from the people you meet from all over the world. It's a lot of fun making new friends and when the season comes around everything gets pretty serious. From now I need to pick up my game and play at the D1 level. The expectations from the D1 level coaching is a lot higher too. It's all about performance at this level. We also do a bunch of community service, We volunteer with Special Olympics bowling. That's a lot of fun. It makes them really happy that we're college softball players helping them; They get really excited and have fun.
I would like to thank the Pearl City community, my parents, and the man above. My parents always had faith in me. They are always my #1 supporters."
Jordan Taamu
"It's always great coming back home. Seeing this turf right now is unbelievable. I'm so happy for the kids to be able to play on it. It's a blessing. When I had to make a decision on what school to go to I decided to go to a JC. I didn't have any D1 offers. When I went up there I knew I had to compete and play hard and do what I know what to do. My first year I got hurt. I was pushing myself too hard. So I decided to overcome that. The next year I became a leader and became the #1 QB in JUCO. My very first college game ever I threw eight touchdowns and that's what sparked the interest in me. From there on I started winning games, picking up a lot of yards and a lot of touchdowns. They liked the way I meshed with the running backs, how I changed plays at the line, read defenses and make smart reads. There was a lot of pressure during the recruiting process. I just had to pray on it. There was a lot going on, especially with finals. It was a tough week for me. I also had to schedule all my visits in two weeks. I cut it down to my two top schools, Minnesota or Ole Miss. Once I visited Ole Miss, the campus and the coaching staff and the community, they had the heart like in Hawaii. My parents are extremely happy for me. Especially because I get to receive a free education.I just gotta go up there and work and compete. This past season the QB was a senior and is probably going pro. The other QB is going to be a sophomore. I feel I have more experience as a college QB.
I would like to thank God and my pastors, my church family,my parents and all my family and friends for praying for me."
Good Luck Jordan and Robi!
Charger Pride, Chargers For Life!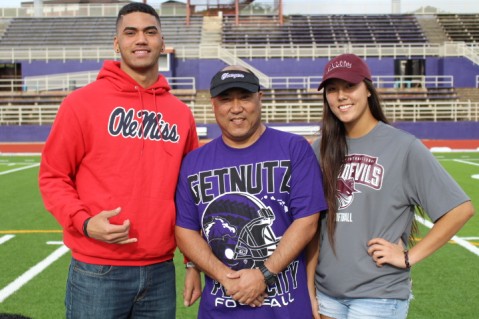 Photo by Barry Villamil | b arry@mypearlcity.com
Jordan, Coach Kami and Robi