Submitted by Hawaiian Electric:
Elementary school students are starting the New Year with their resolutions made to save energy, as part of the 2016-2017 Home Energy Challenge.
Sponsored by the State of Hawai'i Department of Education and Hawaiian Electric Company, the program is designed to educate students about conservation and encourage them to put the lessons into practice at home. One of the components of the program is the Energy Resolution drawing contest, in which the students illustrate their commitments to change their energy-wasting habits.
"This is the tenth year we've conducted the Home Energy Challenge, and every year I'm impressed by the clever depictions of the students' energy resolutions," said Sam Nichols, Senior Community Affairs Consultant with Hawaiian Electric. "While they're all very imaginative, we've selected four students' winning resolutions. And these four students and their classmates will be treated to a witty educational presentation by Magic Science of Hawai'i.
Palisades Elementary first grader Jaycob Y. depicted his home's floor plan, showing each overhead fixture, for his resolution to save energy by "turning off the lights when I'm not using it."
Tamara L., a fourth grader at Aina Haina Elementary, illustrated how she defeats energy vampires by "using power strips to turn the electrical appliances on and off."
Eyana M., a fifth grader at Enchanted Lake Elementary, promised a trifecta of winning energy resolutions: "air drying clothes more often and washing and drying full loads of laundry," and she will "check the lint filter before washing and drying clothes."
And Ma'ema'e Elementary fifth grader Jacob A. will make sure his family uses energy-saving lightbulbs by "changing all of our lightbulbs to Energy Star bulbs, and use the lights only when needed."
A total of eight public elementary schools are participating in this year's Home Energy Challenge: Aina Haina, Enchanted Lake, Haha'ione, Kainalu, Kamiloiki, Ma'ema'e, Nu'uanu, and Palisades.
Hawaiian Electric rewards the three schools whose families conserve the largest percentages of electricity at home during a six-month period with prizes of $10,000, $6,000, and $3,000. The winning schools will be announced in May.
Jaycob
Palisades Eelementary
Tamara
Aina Haina Elementary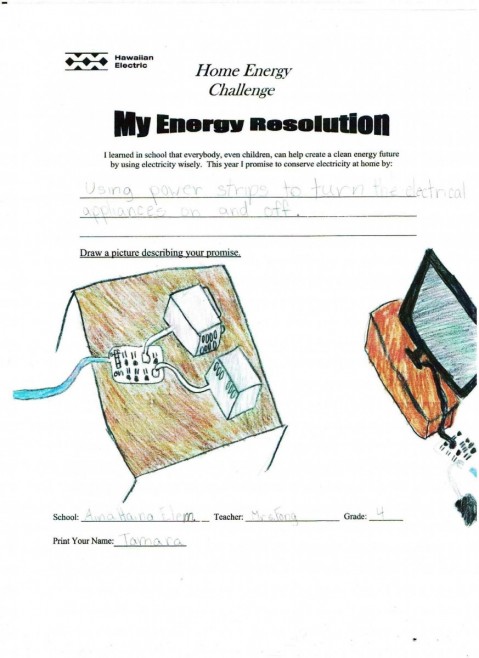 Eyana
Enchanted Lake Elementary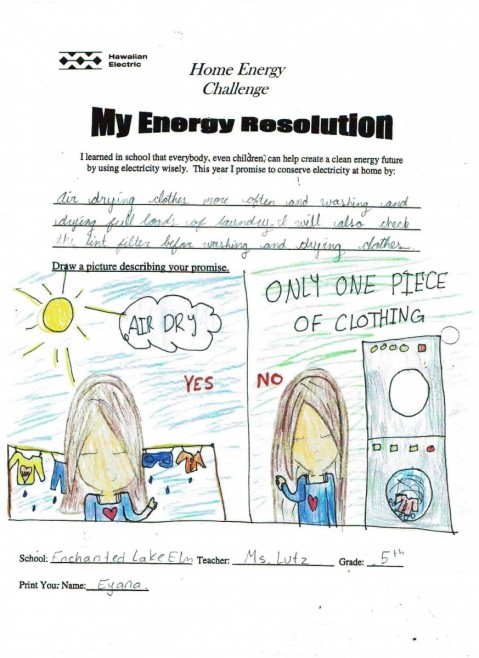 Jacob
Ma'ema'e Elementary