Marcus Murakami is grateful to live, work and play in his hometown of Pearl City where he was born and raised. He is a proud graduate from Pearl City High School's Class of '93. Marcus enjoys a very active life while raising his family with wife Lana, who serves her Pearl City community as a very dedicated leader and volunteer.
Shuttling his kids between hula and dance classes and performances, to attending Charger football games and track meets, Marcus stays pretty busy and also looks forward to a little free time enjoying his passion for fishing and diving and being in the ocean.
"I really enjoy fishing and diving on my days off, and being with my kids and their activities," said Marcus..
Marcus has built a solid foundation of caring for the welfare of his family, friends, and those he serves as an Allstate Insurance agent in Pearl City. After a lengthy career in retails sales, Marcus entered the insurance business a few years ago. He currently works out of his Allstate Insurance office on Kaahumanu Street in Pearl City where he finds his business thriving and the potential for an opportunity to open another office as his business grows."
"I've been in retail my whole life. It was time for a change. I'm looking to still help people and grow my business. Eventually I would like to open another office and branch out."
With his a strong, rooted connections in Pearl City, Marcus concentrates a majority of his business on writing home and auto insurance policies for his clients. Growing up in Pearl City is a key component to his success as his business is driven through referrals from friends and their families that links generations of Pearl City residents.
"The main part of my business is actually the home and the auto insurance. We also do life insurance and any type of financial services. I try to focus mainly on people in Pearl City because I was born and raised in Pearl City, but we do write insurance for the whole state of Hawaii. A lot of the business that I personally do are all referral based. So people I grew up with, went to high school with, and worked with, and a lot of them who still live in Pearl City and have ties to our community. That's how I write my business. A lot of it is in Pearl City. If I help a family save a ton of money on their policy, they go and tell their friends, their family that "hey, Marcus helped me save this much money."
Taking care of his clients life insurance investment needs is achieved through his keen expertise, experience, and ability to identify and coordinate the right investment path. Working with a financial specialists helps reach his clients financial goals well into the future.
"We do life insurance investments. I have a financial specialists that I work with at Allstate. We sit down with him and our clients. He's been in the industry for many years and is very knowledgeable in what he's doing. Once we have their auto, home and do their financial planning it's easy."
Marcus works hard at taking care of his current clients and their families as well as offering his services to new clients while always analyzing and watching over their needs and investments.
"We're very competitive out in the market. One thing about Allstate is an agent that watches over you and we try to be trusted advisors. We're always looking over their policies."
Well, I can honestly say that "Your in good hands" with Marcus.
"As a Personal Financial Representative in Pearl City, I know many local families. My knowledge and understanding of the people in this community help me provide customers with an outstanding level of service. I look forward to helping families like yours protect the things that are important – your family, home, car and more. I can also help you prepare a strategy to achieve your financial goals" ….Marcus Murakami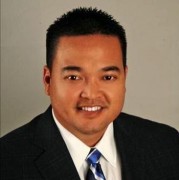 Marcus Murakami contact information:
Address:
98-1238 Kaahumanu St, Ste 303Pearl City, HI 96782
Phone:
(808) 638-4044(808) 638-4044
Fax
(808) 369-7483(808) 369-7483
Email: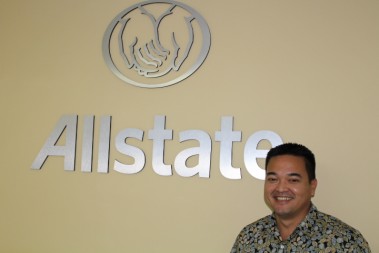 Photo by Barry Villamil | barry@mypearlcity.com
Mahalo Marcus!
PC Heart & Soul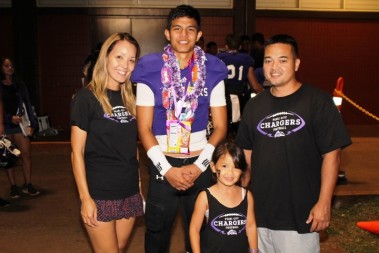 Photo by Barry Villamil | barry@mypearlcity.com
Murakami Chargers ohana
Go Chargers!