Pearl City kicked off a new chapter in the Lady Chargers soccer program and legacy last night after picking up a 7-1 quarterfinal win over Kahuku in the Oahu Interscholastic Association Division I Girls Soccer Championship Playoffs played at Pearl City High School's Edwin Bino Neves Stadium.
The Lady Chargers stepped on to their newly installed stadium turf for the first time and christened it with their quarterfinal win over Kahuku that not only advanced them to Thursday's championship tournament semifinals, but also secured the defending state champions a record 33rd consecutive birth into the state championship tournament that's scheduled for Monday, January 30, 2017 through Thursday-Saturday, February 2-4. 2017 at school sites / Waipio Peninsula Soccer Complex.
Pearl City moves on to meet Moanalua in the semifinals scheduled for tomorrow night, Thursday, January 19 at Castle High School.. The Lady Chargers will take on the Lady Menehune at 7:00pm in the night cap of the semifinal double header at Castle High School. W1 Mililani will meet host E2 Castle at 5:30pm.
Last night, the Lady Chargers were running in full gear and looked good as their speed and power overwhelmed the visiting Lady Raiders. Sunshine Fontes pumped in 3 goals while OIA DI scoring leader Daelenn Tokunaga scored 2 goals, followed by Randi Fontes and Caylie Uyema with 1 goal apiece. Kahuku's Jordan Abregano scored the Lady Raiders only goal of the ball game.
Let's cheer on the Lady Chargers as they fight their way this week towards an OIA Championship!
GO LADY CHARGERS!
Tuesday's Quarterfinal Scores:
Mililani 1
Kapolei 0
Castle 3
Campbell 1
Pearl City 7
Kahuku 1
Moanalua 4
Aiea 0
Daelenn Tokunaga
OIA DI Leading Scorer
18 Goals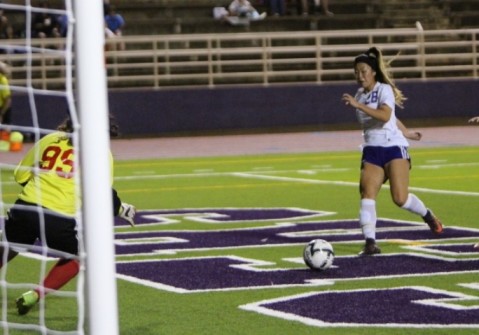 Photo by Barry Villamil | barry@mypearlcity.com

Photo by Barry Villamil | barry@mypearlcity.com
Daelenn scores her second goal of the ball game against Kahuku in the quarterfinal

round of the OIA DI playoffs played at Pearl City Highh School on Tuesday, January 17, 2017

Randi Fontes
OIA DI #2 Ranked Scorer
17 Goals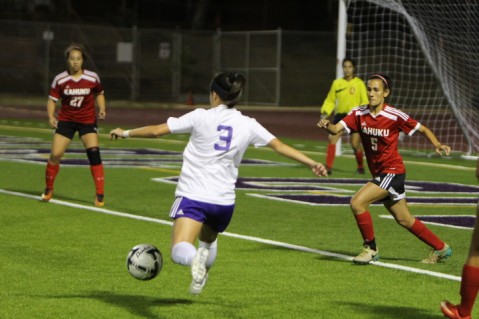 Photo by Barry Villamil | barry@mypearlcity.com
Randi takes a shot on goal in the second half against Kahuku. Randi scored one goal in the 7-1 win.

Sunshine Fontes
OIA DI #3 (tie) Ranked Scorer
16 Goals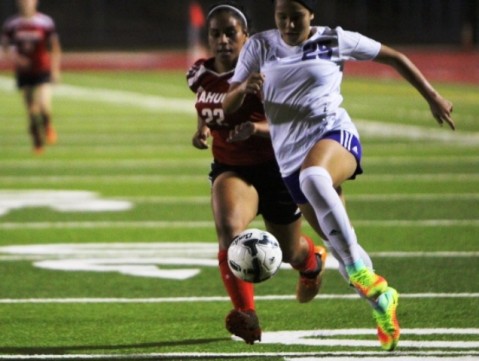 Photo by Barry Villamil | barry@mypearlcity.com
Sunshine Fontes scored a game high three goals against kahuku.

Sunshine drives the ball to the goal late in the second half.