Congratulations to our awesome Lady Chargers who took their first step towards the defense of their 2016 state soccer championship last night by shutting out Kapolei 2-0 in the first round of the 2017 HHSAA State Division I Girls Soccer Championships played at Pearl City High School.
Zoe Sano got the Lady Chargers on the scoreboard on a penalty kick at the 46 minute after teammate Daelenn Tokunaga was fouled by Kapolei's Kayla Alcott. The Lady Charers took a 2-0 lead at the 55th minute on goal by Sunshine Fontes from 15 yards out that found the right corner of the net.
The :Lady Chargers advanced to the championship tournament quarterfinals against #3 seed Baldwin on Thursday, February 2, 7:00pm at the Waipio Peninsula Soccer Complex Main Stadium.
Come out and support our Lady Chargers!
GO LADY CHARGERS!
Monday, January 30
First Round Results
Pearl City 2 Kapolei 0
Iolani 3 Moanalua 0
Castle 2 Waiakea 0
Aiea 2 KS Maui 2-1 (2OT)
Thursday, February 2
Quarterfinal Match-ups
@ Waipio Peninsula Soccer Complex – Main Stadium
#4 Hilo vs. Iolani 1:00pm
#2 Punahou vs. Castle 3:00pm
#1 Mililani vs. Aiea 5:00pm
#3 Baldwin vs. Pearl City 7:00pm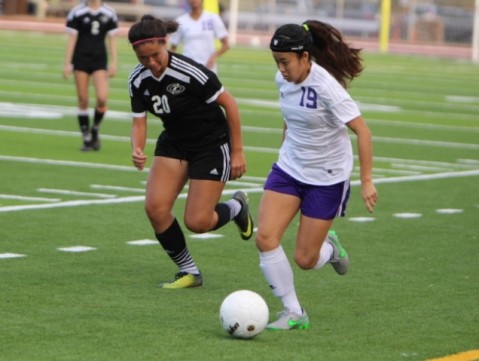 Photo by Barry Villamil | barry@mypearlcity.com
Zoe Sano runs past Kapolei's Jocelyn Lono in the first half. Zoe scored the Lady Chargers
first goal on a penalty kick in the second half at the 46th minute that broke a 0-0 tie. Zoe
is always in the mix and a true Heart & Soul contributor to the Lady Chargers success.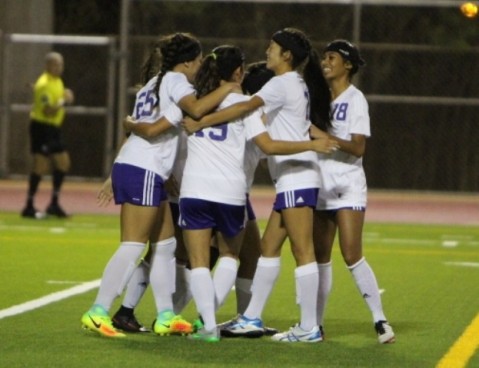 Photo by Barry Villamil | barry@mypearlcity.com
Zoe (#19) is embraced while being congratulated by teammates after
scoring the Lady Chargers first goal of the ball game at the 46th minute.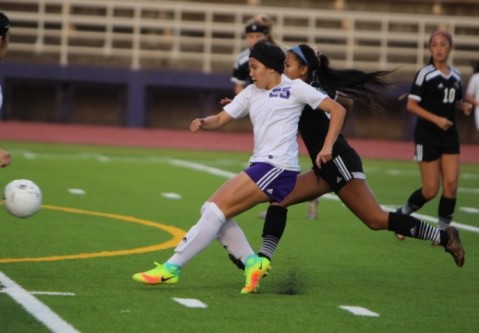 Photo by Barry Villamil | barry@mypearlcity.com
Pearl City scoring machine Sunshine Fontes takes a shot on goal in the first
half. Sunshine later scored at the 55th minute to put the Lady Chargers up 2-0.