HHSAA DI Boys Varsity Soccer Playoffs
First Round – Pearl City @ King Kekaulike
Monday, February 6
6:30pm
HHSAA DI Boys Varsity Soccer Playoffs
Quarterfinals – #1 Kapolei vs. Pearl City

@ Waipio Peninsula Soccer Complex Main Stadium
Thursday, February 9
1:00pm

Mark K. Takai HHSAA Diving & Swimming Championships
@ University of Hawaii
Friday, February 10
10:00am
OIA Boys & Girls Wrestling Championships
@ Leilehua High School
Friday, February 10
12:30pm
HHSAA DI Boys Varsity Soccer Playoffs
@ Waipio Peninsula Soccer Complex Main Stadium

Semifinals – TBA
Friday, February 10
TBA
Mark K. Takai HHSAA Diving & Swimming Championships
@ University of Hawaii
Saturday, February 11
2:00pm
OIA Boys & Girls Wrestling Championships
@ Leilehua High School
Saturday, February 11
2:00pm
HHSAA DI Boys Varsity Soccer Playoffs
@ Waipio Peninsula Soccer Complex Main Stadium

Championship Finals

Saturday, February 11
7:00pm
GO CHARGERS!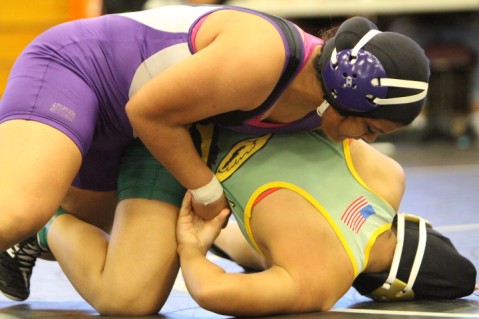 Photo by Barry Villamil | barry@mypearlcity.com
Newly crowned 2017 OIA Wrestling Western Division Girls Team Champion

Lady Chargers
will compete along with the Charger Boys in this week's OIA

Wrestling

Championships
scheduled

for Friday and Saturday at Leilehua High School.

Jennie Fuamatu picked

up
t

he OIA Western Division 186 Lbs. individual championship title at Radfod High

School

on
Saturday, February 4, 2017. Jennie is pictured here pinning her Leilehua High School opponent
at

the OIA Varsity Dual Championships held on January 26, 2017 at Farrington High School.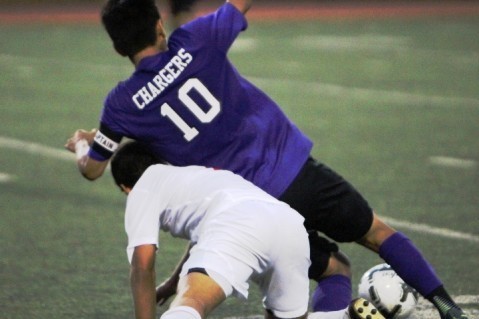 Photo by Barry Villamil | barry@mypearlcity.com
Pearl City Chargers travel to Maui to take on King Kekaulike of the

MIL in the first round of the 2017 HHSAA State Division I Boys Soccer

Championships on Monday, February 6. Daniel Woo will lead his Charger

teammates in state championship tournament play. Daniel is pictured here

battling against Kalani during the 2017 OIA Division I championship

quarterfinals played at Kailua High School on Tuesday, January 24, 2017.