Written by Avery Britt, Highlands Voice, Highlands Intermediate School
Spinning, stepping, and twirling, Latin Dance club meets in P4, Mr. Esteban's classroom, Tuesdays and Thursdays at lunch and afterschool from 3-4 on Thursday. Latin Dance club, only consisting of ten students, is, as the name suggests, where Highlands students can go learn Latin dances.
"I, myself am a dancer, " Mr. Esteban explained, "and I enjoyed it, so I thought it would be easy enough to teach," Mr. Esteban (Laule'a), is the teacher for Latin Dance club.
"Personally, I joined the club because I wanted to learn how to dance", According to one of the students in Latin Dance club most of them joined in for the same reason or simply because they loved to dance.
The students in Latin Dance club have so far learned three dances, Salsa, Bachata, and Merengue. For each new dance, students have to dedicate their time and effort to learning and memorizing the usually complex dance sequence.
Although Latin Dance club might not be here next year, all interested students from both 7th and 8th grade are still able to join now.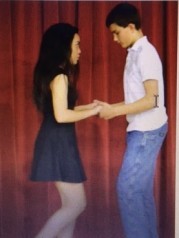 Photo by Highlands Voice
Lacey Souza and Branden Reil finish a killer duet at Latin Dance club.