By HHSAA
Student athletes across the state compete at the HHSAA Chevron Wrestling State Championship sponsored by Island Energy Services, February 17-18, 2017

The Hawaii High School Athletic Association Chevron Wrestling State Championship Tournament takes place this weekend, bringing in more than 400 athletes from 52 schools together to compete during the state's largest high school wrestling event. The 52nd annual state tournament begins Friday, Feb. 17, at the Neal S. Blaisdell Arena, with the preliminary round starting at 10:00 am, and will run through Saturday, Feb.18.
"We are excited to welcome high school athletes from across the state to celebrate their skills and their dedication to the sport of wrestling," said Chris Chun, HHSAA executive director. "We are very proud of our sports community, and thankful to the sponsors who have partnered with us over the years. The HHSAA is very fortunate to have the support of our longstanding partner, Chevron Hawaii, currently undergoing a rebrand to Texaco with Techron."
Chevron has been the title sponsor of the state-wrestling meet since 2004. In November 2016, Island Energy Services (Island Energy) purchased Chevron's refining, retail and distribution assets in Hawaii. This purchase signaled a transition from existing Chevron service stations to one of Chevron's brands, Texaco. Island Energy is proud to continue Chevron's longstanding support of HHSAA at this year's tournament, which started first as the title sponsor of the HHSAA football state championships from 1999-2002, and the wrestling title sponsor from 2004.
"First as Chevron, and now as we bring Texaco to Hawaii, we are proud of our long-standing partnership with HHSAA which enables opportunities for the many student-athletes to compete in state tournaments, including the wrestling tournament," said Carina Tagupa, Communications and Community Relations Manager of Island Energy Services.
With more than 99% of all Chevron employees remaining with Island Energy Services during the transition to Texaco with Techron, customers will notice no difference other than the new name and brand new look at the former Chevron stations in Hawaii, the same Techron-enhanced gasoline at every grade, and the same great service from the local retailers motorists know and trust.
About the HHSAA
Founded in 1956, the Hawaii High School Athletic Association is a non-profit, 501(c)(3) educational athletic organization exclusively dedicated to serving 96 public and independent member high schools statewide, as they work cooperatively to support and promote athletics as part of the high school education program. As the umbrella organization of high school athletics, the HHSAA operates 44 state championships in 18 different sports, establishing consistent standards and rules for competition, in addition to providing professional development opportunities for coaches and athletic administrators. For more information on the Hawaii High School Athletic Association, go to www.sportshigh.com.
About Island Energy Services
Island Energy Services, LLC is an entity controlled by One Rock Capital Partners, L.P., a
New York-based private equity firm. Island Energy is headquartered in Kapolei, Oahu, Hawaii and, through its wholly owned affiliates IES Downstream, LLC and IES Retail, LLC, operates assets previously owned and operated by Chevron U.S.A., Inc. including a refinery, interest in a network of retail service stations statewide, four product distribution terminals and related logistical assets. For more information, visit www.islandenergyservices.com.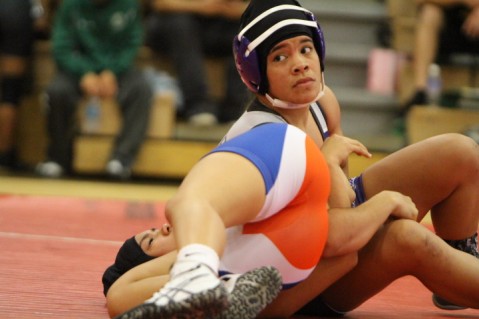 MyPearlCity.com File Photo | barry@mypearlcity.com
Pearl City's Jacqueline Fuamatu placed 5th in the 172. Lbs. weight class of the 2015-2016

HHSAA State Wrestling Championships. Fuamatu finished runner-up last week in the
2017 OIA Championships and will be a top competitor in this weekend's state championships.