Help Support Pearl City High School Mathematics Scholarship Program

Written by Daphne Okunaga, Mathmatics, Pearl City High School:
For some background information, the Introduction to College Mathematics is a pilot course by the Department Education and the UH System. Students who successfully complete the class with a B do not have to take the math placement exam and can enter college in the 100-level non-STEM math class. The type of students in the class are seniors who have traditionally not been successful in math and probably would not have taken a fourth year of math (only three years are required for graduation). These students plan on entering non-STEM degrees and will only need to do one math class in college. The class focuses on critical thinking and perseverance so it is unlike most math classes at a high school. The class is heavily project based and we try to do a variety of projects that highlight different career options. This quarter the 3 projects that we're doing are a t-shirt design, college exploration (they'll apply for a college, apply for a scholarship, revise and finalize their personal statement and resume, apply for the FAFSA and obtain 2 letters of recommendation), and a career interview (they need to find a person who is currently in the career their interested in, and interview the person, take a picture with the person, and do a write up) so we can create a "career wall" for others to browse.
The T-Shirt Project ties in scale drawings and dimensional analysis (that we are learning this quarter). In order to provide students guidance and get their creativity started we visited Plan B Printing (t-shirt printing company) and visited about 15 stores in Pearlridge. The students asked basic questions like the cost of the shirt, what size, design, color is the most popular, etc. After the field trip the students were asked to create a marketable t-shirt (not a math shirt, not a PCHS shirt, not a senior shirt) and we went through 2 rounds of peer edit (one by the arts and communication design class) and finally went into the graphics class to finalize the shirt. The students in Introduction to College Math voted to narrow down the selections to three choices, but the winning shirt was open to voting by the entire student body at Pearl City
The project is almost over and the students are currently selling the t-shirt for $15 to the community. The goal is to create a profit large enough to provide multiple scholarships to our students in Introduction to College Math for their first year of college next year. Many of the students desire to attend college (either at a local community college or university) but money is a severe concern. If you would like to help us in our efforts to sell the shirt, please let Kaji know at daphne_okunaga@notes.k12.hi.us or 307-5597.
ALOHA T-SHIRT
$15.00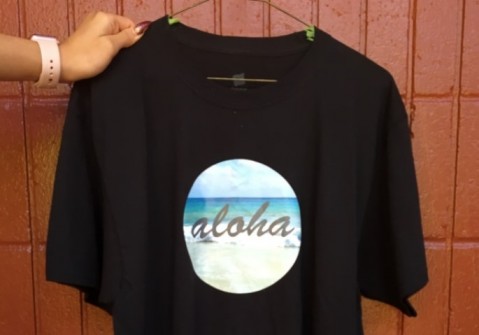 FRONT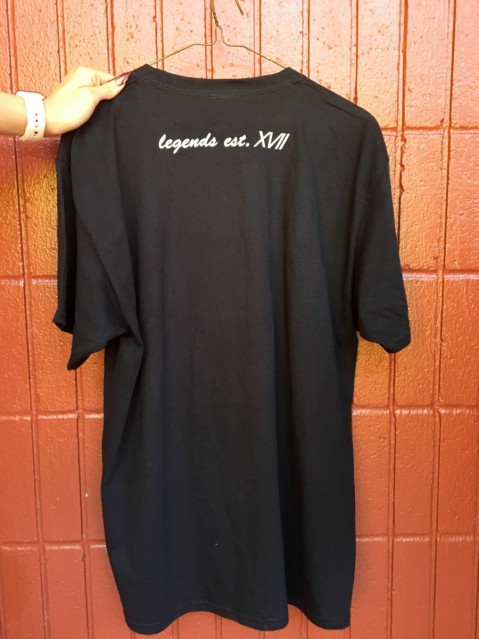 BACK