Written by Moana Aquino, Highlands Voice, Highlands Intermediate School
Every year, teens in the United States aged 12-15 years-old spend about $5,600 and the majority of this amount is spent on food, clothes, and accessories, like, shoes. "I don't e really know if I have a limit..what is my limit?" Mary Velasco asks.
Hooko eighth grader, Mary Velasco, spends at least $250 every time she goes out shopping. According to Velasco, she gets most of her money from her parents from chores around the house. She spends it at Ala Moana Center and Waikiki Shopping Plaza. When browsing for items to purchase, she focuses the most on food chains, like, Taco Bell and Starbucks, spending at least $70 and clothing stores, such as, the rising teen based store, PINK, spending about $150. Also, Velasco spends about $75 on face products or items from makeup stores, like, Sephora and Mac. "I guess this a lot of money to spend, but I use the stuff I buy…most of the time," Velasco confesses.
Experts say that teenagers aged 12-15 are one of the youngest teen group who spends the most money. Most American teenagers spend at least half of their country's money on food and clothes, most of them earning money from their parents or guardians (theatlantic.com). However, some teenagers earn their money from doing jobs such as babysitting and walking the neighborhood dogs.
However, another Hooko eighth grader, Josiah Tamasaka, spends at most $35 when he goes out with his friends. When Tamasaka decides to spend money, he chooses to spend it at Pearlridge, a shopping mall in Aiea. He reveals that he mostly spends his money at movie theaters, costing at least $15 and clothing stores, such as, Zumiez and Hot Topic averaging from $15 to $20. However, Tamasaka shares that he is trying to spend the least amount of money that he earns, also from doing chores around the house, to help save up for his entry for Iolani School. "I'm trying to save up for something important, but I see so many people spending so much money. Like once, I saw this girl in Zumiez and she spent like $150 just on a couple of t-shirts and a bracelet," Tamasaka explains.
Although trying to save money can be difficult, there are many ways that can help Highlands students. For example, students can try to make a budget or try to leave the rest of the savings at home so that the money saved is not spent all in one day and reduce the amount of expenses. These small suggestions could help students save and prepare for the future.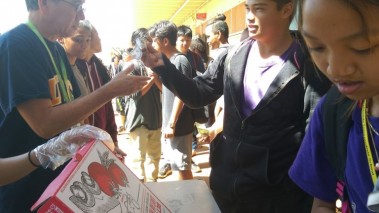 Photo by Moana Aquino, Highlands Voice
Jeremy Pangelinan is one of the many students who spent a total of $80 on pizza after school.