Pearl City emerged on Tuesday undefeated at 4-0 after battling previously unbeaten Campbell 2-1 in Oahu Interscholastic Association Western Division I varsity softball played Pearl City High School. Campbell (3-1) got knocked out of the ranks of the undefeated in league play after losing a hard fought battle with Lady Chargers. Both teams entered the contest undefeated at 3-0 with the Lady Sabers sitting atop the state's Division I rankings at #1 and Pearl City ranked at #3.
Pearl City's Haley-Alexis Yamaguchi connected for a game winning 2 RBI single in the bottom of the sixth inning while Lady Charger ace Tyanna "Peanut Butter" Kaaialii took care of business from the circle tossing a 3-hitter while striking out 10 to earn the win.
Yamaguchi batted 1-3 with 2 RBI. Kaaialii improved to a perfect 4-0.
Danielle Cervantes took the loss for the Lady Sabers. Cervantes pitched six strong innings holding the explosive Lady Chargers to 2 runs on 6 hits with 5 strikeouts and 1 walk.
The Lady Sabers broke a scoreless tie in the top of the fifith inning on a RBI single by Trinity Favela that scored Cieana Curran from second base.
In the bottom of the sixth inning Taylor Shigeta took first base after beating the throw to the bag. Next batter, Kylie Tasaki stroked a single into right-centerfield moving Shigeta into scoring position at third base. The Lady Chargers had runners on the corners. Tasaki advanced to second base on a steal. Jaeda McFarland struck out for the first out. Next batter Darian Obara walked to load the bases. Noel Saunders popped out for out number two. Haley-Alexis Yamaguchi stepped up to the plate and hit a 2 RBI single into right field that scored Shigeta from third and Tasaki from second. The Lady Chargers went in front 2-1. Pinch-runner Tiana Akau was picked off at first base for the third out.
Both teams played their hearts out. I caught up with Chad Obara, Lady Chargers Head Coach, winning pitcher Tyanna "Peanut Butter" Kaaialii and Haley-Alexis Yamaguchi who drove in the winning runs to get their comments on today's win.
Head Coach Chad Obara

"I'm happy for the girls. It's been a hill we've been trying to get over for a while. It's the third year already. It's just another ball game in the iregular season so I don't want them to get to high about it. I want them to feel good about it and know that they can do a little bit more. They were loose today and don't even know if they paid attention to rankings or anything like that. We try to teach them that it's one game at time and equal value for every game that we play. PB was pretty sharp today. I haven't seen her much better than that. This a good a good bunch of girls. They gotta find a way to win right now and that's kinda of what we've been talking about. Find a way to win. We've been so close, so close and always came uo short. We even put up a quote from Darwin, "It's not the strongest that survive, or the most intelligent, it's mostly able to adapt." The good thing is that the players are buying into what we're tellling them. A very unselfiish group and the coaches are all on the same page. We try to keep everything positive and even keel and just play."
Tyanna "Peanut Butter" Kaaialii
"I felt great today knowing my teammates had my back no matter what would happen, If I got in trouble I knew they had me. I was anxouis,. I was ready and I was confident. I was hungry. I treat every batter the same to me. I get aggressive and try and beat them. This a collective effort by my team to win. They made plays that they had to make. That last out felt wonderful, I loved it. I would like to thank my coaches. If it wasn't for them I wouldn't be the player that I am today."
Hailey-Alexis Yamaguchi
"This was a great win. It was just another game, but it came our way. It was great feeling to get the hit. My first at bat she wasjust throwing outside, so every at bat I knew that the outside was coming. I had perfect timing hitting that ball and scoring my my teammates in. They started the rally too. Having this win will boost up our confidence for the rest of the season. I want to thank my teammates. We all did it. It was a team win."
The Lady Chargers will host Waianae on Saturday, March 18 with first pitch scheduled for 10:00am .The Lady Sabers will take on Mililani on Saturday, March 18 at McKinley with first pitch scheduled for 5:00pm.
Pearl City and Campbell are scheduled to meet again in a re-match at Campbell on Tuesday, April 11 at 3:00pm.
GO LADY CHARGERS!
1 2 3 4 5 6 7 R H E
Campbell (3-1) 0 0 0 0 1 0 0 1 3 1
Pearl City (4-0) 0 0 0 0 0 2 X 2 6 0
Leading Hitters:
Campbell – Jocelyn Alo 1-2, 2B; Cieana Curran 1-3, run; Trinity Favela 1-2, RBI
Pearl City – Kylie Tasaki 1-3, run; Jaeda McFarland 1-3, Darian Obara 1-2; Hailey-Alexis Yamaguchi 1-3, 2 RBI; Cheyne Obara 1-2; Bryanna Passi 1-2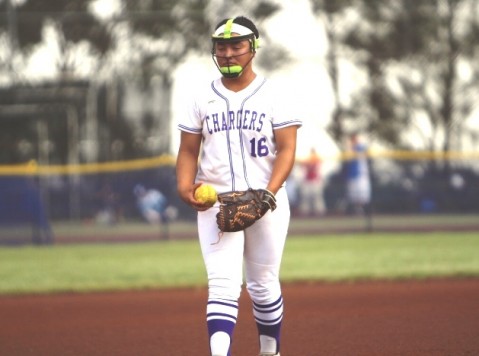 Photo by Barry Villamil | [email protected]
Pearl City ace Tyanna "Peanut Butter" Kaaialii earned her fourth win of

the regular season tossing a 3-hitter while striking out 10 Lady Saber batters.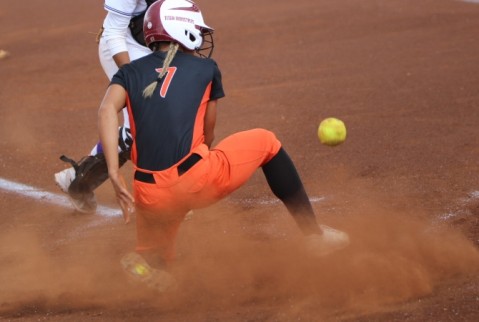 Photo by Barry Villamil | [email protected]
Campbell's Cieana Curran scored from second base on a RBI single by Trinity Favela

in the top of the fifth inning that broke a scoreless tie and put the Lady Sabers in front 1-0.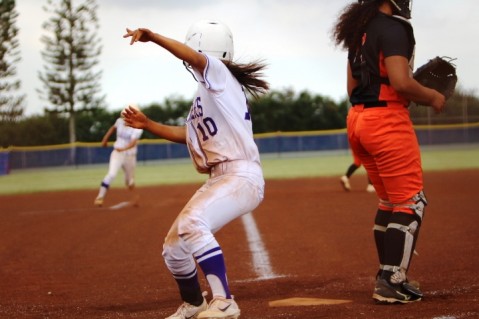 Photo by Barry Villamil | [email protected]
Taylor Shigeta crosses home plate and looks back at Kylie Tasaki

as she makes the turn at third and heads home with the game winning

run in the bottom of the sixth inning. Both Shigeta and Tasaki scored

on Haley-Alexis Yamaguchi's two-out 2 RBI double.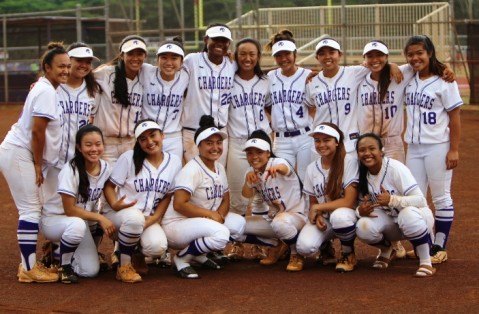 Photo by Barry Villamil | [email protected]
Congratulations to the amazing Lady Chargers on their win over Campbell and their success
so far this season. This is a very special group of teammates who play as one, and win as one.

As humble as it comes. You represent the true meaning of CHARGER PRIDE!