Submitted by Principal Bryan Loo, Manana Elementary School:
This past Saturday they took FIRST PLACE at the Elementary Science Olympiad (ESO) Oahu Tournament (Mililani High School). There were 14 teams representing 12 "schools". (Manana Elem., Homeschool Science Club, Hanalani Schools, Mililani 'Ike Elem., Palisades Elem. [2 teams], UH Lab School, Moanalua Elem. [2 teams], Enchanted Lake Elem., August Ahrens Elem., IMAG Academy Lab [another homeschool group], Mililani Uka Elem., and Aikahi Elem.
Manana placed 1st or 2nd in ten out of the fifteen of the events. THAT is AMAZING!!
In the four years the ESO Tournaments have been held, Manana has now placed 2nd (2014), 1st (2015), 1st (2016) and 1st (2017)! This was a "THREE-PEAT" victory! CHEEE HOOOOO!

THANK YOU to our Dynamic Duo of Head Coaches – Ms. Gail Wakatake and Mrs. Jamie Oshio, who took over the team this school year. They had AWESOME parent support from their assistant coaches: Mr. AND Mrs. Chigawa, Mrs. Debbie Nakagawa, and Ms. Robyn Murata. Special thanks to Mrs. Michelle Kim and Mr. Carey Chinen, who also volunteered countless hours of time. We are VERY thankful for their generosity.
There can only be FIVE sixth graders on any ESO team. Our sixth graders are: Camy Chigawa, Rylan Ganeko, Alyssa Nakagawa, Shea Oshio and Shonty Passi. Our fifth graders are: Jake Duldalao, Jeazelle Garlitos, Cedric Hirota, Christian Macanas, Lily Mounthongdy, Britni Nakagawa, Andie Shimizu and Darien Yee.
CONGRATULATIONS CHAMPS!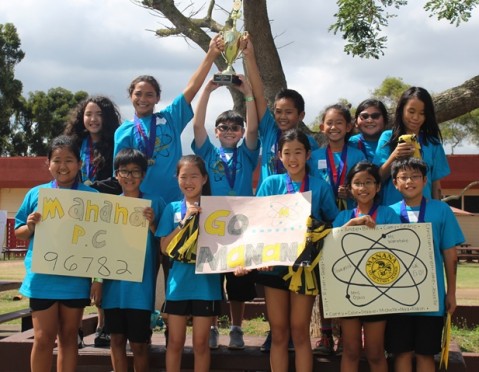 Photo provided by Manana Elementary School