Written by Principal Bryan Loo, Manana Elementary School
The 10th annual Lawrence Technological University "ROBOFEST" was held this past Saturday in Pearl City High School's cafeteria. The place was ROCKIN' with EXCITEMENT!
Manana students participated in the "Exhibition" category ("Ke'oke'o Destroyers), as well as the "Roboparade" category (Nature Saviors, Manana Robo Team, Hawaiian Dolphins and
Manana Robotics 4).
THANK YOU to Mrs. Lynn Okamura, Mrs. Janet Okamura, and Ms. Kellie Hatten, who coached our students in grades four, five and six.
Ke'oke'o Destroyers: Demi Clark, Jamie Perreira, Mikayla Oba, Jacqueline Concepcion
Nature Survivors: Kolby Batangan, Ryan Takeuchi, TJ Yoneyama
Manana Robo Team: Mia Leslie, Aaliyah Price, Maiah Oba, Kamryn Higa, Kaya Calbero
Manana Robotics 4: Jazzmyn Mimura, Haley Alferez, Ryanne Yoshimura
Hawaiian Dolphins: Alakai Leong, Jaycie Lum, Kaylynn Kaiura, Karra Ann Higuchi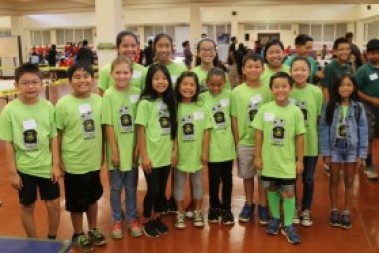 Photo by Manana Elementary School
CONGRATULATIONS to the Ke'oke'o Destroyers! They earned 1st Place for the Judge's AND People's Choice Awards!! [This is the second year in a row Manana has won BOTH the Judge's and People's Choice Awards in the Exhibition Category!] (See attached file: File_001.jpeg)<== Pictured with The Ke'oke'o Destroyers are Sandi Kanemori from High Technology Development Corp (htdc), and Alan Hayashi from Friends of Hawaii Robotics are also in this picture. Those two companies are Robofest's major sponsors.
CONGRATULATIONS to the Manana Robo Team! They won 2nd Place for the People's Choice Award in the Roboparade!
Check out their trophies in the office! =)
A special presentation was made to recognize Mrs. Lynn Okamura. She is the only Coach who has participated in EVERY ROBOFEST over the past 10 YEARS!! Ms. Lynn Fujioka, President of HI Fusion Ed, presented Mrs. Okamura with a certificate and a $100.00 check!! Manana Elementary School was also recognized for participating in every ROBOFEST. On behalf of the school, Mr. Alika Ahu and I accepted a certificate and a check for $100.00. THANK YOU to Ms. Lynn Fujioka for her thoughtfulness and generosity. We truly appreciate it!
(See attached file: LOkamura.JPG)
See you at ROBOFEST next year!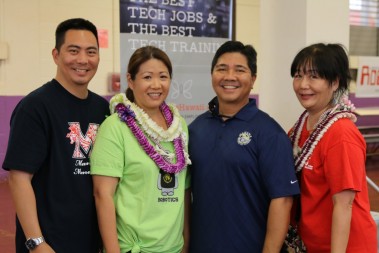 Photo by Manana Elementary School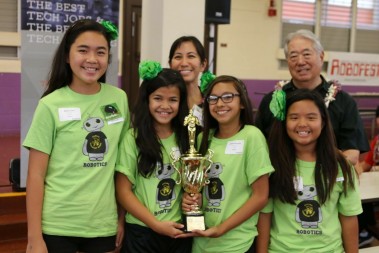 Photo by Manana Elementary School