Written by Cherami Makimoto, The Highlands Voice, Highlands Intermediate School:
According to USA Today, in 2013 47% of 12-15 year olds have suffered a concussion that is related to the sport they play. Although some sports may not have physical contact, the impact that is by a fall could be mild however,it could also affect a person for the rest of their lives. Sports injuries can also affect the player physically, socially, and mentally.
The top 5 sports played by 19 year olds and younger in America that have the highest rates of injury (USA Today 2013) are football, basketball, soccer, baseball, and softball. 8th graders, Bronson Sua and Max Fonoti-Maikui of Ho'oko commented that they both got hurt while playing football. Bronson got hurt when his opponent hit the side of his knee and bent it. Max also hurt his knee however, it was more severe than Bronson's. "I tore my ACL. I was coming down for a block and my knee popped when I planted it."
In contact sports, concussions are very common. Mr. Nakagawa is Ho'oko's English teacher and coaches U12 Girls and U8 Boys soccer team. He commented that some common injuries within his team are concussions, bumps and bruises, strains, and sprains. "There was unfortunately a player who had a concussion and a spiral fracture all at the same time," Nakagawa recalls with a serious attitude. According to Stanford's Children Health, most injuries are caused by contact and collisions. About 62% of injuries happen during practices. Plus, a shocking 3.5 million children ages 14 and under get hurt yearly playing sports or participating in other activities.
Being injured does not only affect your body, it also affects you emotionally. Although Bronson was unable to play for 1.5 weeks, he recalls the positives of those days. "When you get back to practice, it's a feeling that you can't describe." He says that all his teammates made him feel important and he felt really good when they would check up on him.
However, Max says that the worst part about being hurt, is not being able to play the sport. He also knew that right away, right after his knee popped, that he was seriously injured. Bronson says that the worst part about being hurt is "knowing that there's a guy out there getting more reps at my position and knowing he's putting in the work." Both of these players felt like they let their team down. Mr. Nakagawa on the other hand, says that the worst thing about seeing his players hurt is "how it affects their daily activity."
Bronson, Max, and Mr. Nakagawa have some tips for all athletes out there. "Pain is only temporary, sometimes you just don't think about it," Bronson says. So keep on fighting and never give up. As safety precautions, Mr. Nakagawa says do not get going and get overworked too fast. He stresses that "rest is very important!" He says that young athletes do not realize that their career is only starting, they have lots more time and should not rush things. To all athletes out there, Max says to "play every game like it's your last," because anything can happen.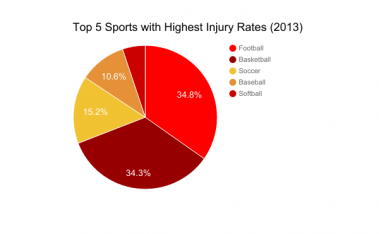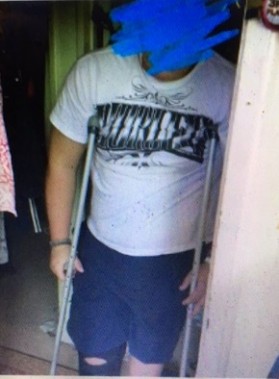 Photo by The Highlands Voice
"Bronson Sua stands on crutches after a knee injury a couple weeks ago."