Our Pearl City Lady Chargers put an exclamation mark on their incredible regular and post-season by capturing the 2017 HHSAA Atlas Insurance Agency State Girls Judo Team Championship on Saturday at the University of Hawaii's Stan Sheriff Center.
The Lady Chargers added yesterday's state team championship to their Oahu Interscholastic Association Team Championship, OIA Western Division Team Championship and multiple individual championships along the way. The Lady Chargers beat runner-up Roosevelt by 12 points 78-66 to claim the state team championship title.
Sisters Jackie and Jennie Fuamatu both won individual Gold for the Lady Chargers. The two newly crowned champions were phenomenal in their championship performances. Jackie repeated as the 154 lbs. champion while Jennie won her first championship title in the 220 lbs. division.
Four Lady Chargers made into championsip title matches:
109 lbs. Kayla Oda – 2nd
122 lbs. Mikayla Abe – 2njd
154 lbs. Jackie Fuamatu – 1st
220 lbs. Jennie Fuamatu – 1st
Chargers Head Coach Robin Puahala
"I am so happy after the last years of taking second. Last year's heartbreak was by one point. Most of my team came back to experience this and out of fifteen state qualifiers, only three of them are seniors, so we'll bring back a lot. This season we fought through a lot of adversity, injuries, and internal teamwork that wasn't working, so we had a sports phycologist come down and talk to the team on Monday before states and he put the glue back together that we needed. The girls just ran through it. I'm glad that we decided to go that route to help them focus mentally. I'm so happy for Jackie and Jennie's championships. The Fuamatu family has been so great to us. I want to say thank you to the coaches, they're all volunteer coaches. They believe in the program and take the time and sacrifice for their families. They work to be here for free. It's not for them, they do it for the kids."
Jackie Fuamatu 2X 154 lbs. State Champion
"It feels really good to be the the 2X state champ. I had to fight hard to win the title. It feels good to win the team title with the girls and a championship with my sister."
Jennie Fuamatu, 220 lbs. State Champion
"This feels really good. It was tough, but I knew I had it. I never gave up. The crowd really helped me. It feels super good to win with my sister. It's been a long time that we haven't won together. I always thought that for wrestling we would win together. Hopefully I can repeat next year."
Pearl City Charger Boys finished in seventh place in the team standings. Charger Boys sent three players to the awards podium. Kapolei won the Boys team championship with 58 points. Moanalua finished runner-up 10 points behind at 48.
A special mahalo to the HHSAA for a great championship tournament! For complete championship tournament results log on to: @HHSAAsports or #hhsaa
Congratulations to all the Charger players, coaches, and supporters!
CONGRATULATIONS CHAMPS!
JACKIE & JENNIE FUAMATU
Photo by Barry Villamil | barry@mypearlcity.com
MAHALO TO HEAD COACH ROBIN PUAHALA
AND HIS CHARGER COACHING STAFF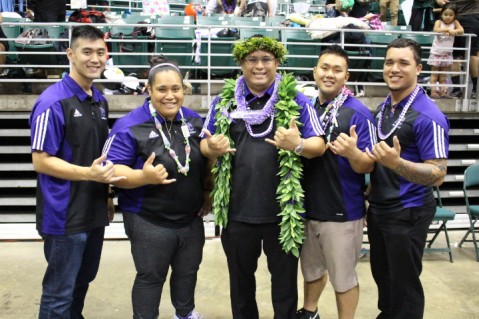 Photo by Barry Villamil | barry@mypearlcity.com
Chargers Head Coach Robin Puahala (center) is pictured with a portion
of his volunteer coaching staff on the floor of the Stan Sheriff Center.

LADY CHARGERS FINAL INDIVIDUAL RESULTS
103 lbs. MAIA FERNANDEZ 6th
109 LBS. KAYLA ODA 2ND
122 LBS. MIKAYLA ABE 2ND
129 LBS. CHANNEL HUNTER 5TH
129 LBS. SHANNA INOUYE 6TH
139 LBS. NINA SEOANE 3RD
154 LBS. JACKIE FUAMATU 1ST
172 LBS. MICHELLE TANUVASA 5TH
220 LBS. JENNIE FUAMATU 1ST
220 LBS. OLIVIA MATAELE 4TH
CHARGER BOYS FINAL INDIVIDUAL RESULTS
161 LBS. JUSTIN MUSGROVE 4TH
178 LBS. CARSON HERNANDEZ 3RD
285 LBS. PAULSSON SOLOMON 4TH