The Highlands Voice, Highlands Intermediate School:
"Hey batter batter, hey batter batter swing!" Baseball is a big hit among many Highlands students. This popular sport has students hitting the field at practice after hitting the books at school. Not only is it a favored game, but a huge part of many players lives.
According to Sporteology.com, baseball is the second most popular sport in America, only trailing behind football. "I feel happy when I play," expressed 8th grader Josiah Locquiao.
He plays for a PONY league and practices four days a week, spending two to three hours at practice. Locquiao has been playing ever since he was five years old and believes that a great player should have speed, strength, and good knowledge of the game.
"I've been playing for almost 10 years since I was 4 years old," commented 8th grader, Micah Zeller. He plays for Aiea PONY baseball league and practices for about two hours three times a week with games every weekend. His favorite experience playing was when he and his team were able to travel to California to play.
Juggling athletics and school can be tricky. Both boys balance the two by making school their first priority. Locquiao advises to put school first and get work done at home in order to grow stronger with age.
Just like any sport, baseball is not just for boys. 8th grader Taryn Fujioka plays hard on the field as she has been playing ever since she was four and has never been judged for it. "Most people actually say it's cool to play a sport with all boys and also since my girl best friend played the whole time with me," cheered Fujioka.
Fujioka previously played for Pearl City Little League, but stopped a while ago. She wants to encourage other young girls to play baseball since it has helped her in other sports, such as softball. "It's a good experience , it honestly toughens you up!" cheered Fujioka.
Unfortunately, injuries never get benched and happen often in baseball. Incidents that these players have been involved in include getting beamed in the mouth, eyes, or face with the ball; spraining ankles, or fracturing body parts.
This bat-and-ball game is much more than a simple sport, it shapes a player into who they are and is open to anyone who desires to partake in this unique game.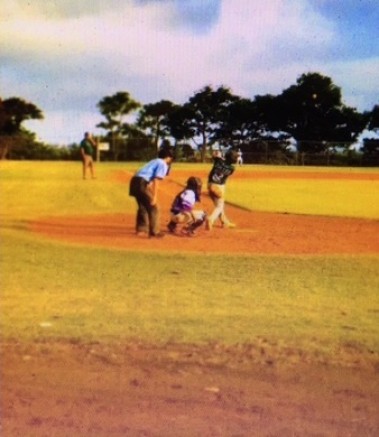 Photo by The Highlands Voice
Picture Caption: Micah Zeller batting the winning run for Aiea PONY