Written by Kekoa Manner:
I just wanted to share. . .
My mom was suppose to have 4 leg surgeries back in March but she put them off because she wants to be there for 2 competitions scheduled for this month. Since my mom was told not to teach hula till after her surgeries, I'm glad my sister, Christina took over and worked hard with the students from Palisades Elementary Aloha Hula to compete in last night's Brown Bags To Stardom 2017 which was held at the Neal Blasdell Pikake Room. They danced to the song Ka'a Ahi Kahului in honor of Palani Vaughn. My mom was blessed to have a dear family friend of ours, Christine Gardner, take the time out from her busy schedule and work with Palisades Elementary (first time) Aloha Ukulele Duo, Carly and Jeny with their awesome ukulele piece, Wipeout, where they wowed the crowd by turning around and playing their ukulele on the back of their heads in the middle of their song.
My mom is lucky to have the continuing support from all these awesome children's family member's who all commit to make sure their child makes it to practice and prepare them for competitions. My mom is grateful that one of the hula mom's, Erika, lets them practice hula in her garage every week for extra practice along with the practices they have after school on Wednesdays at Palisades. My mom is thankful that Erika's mom, Joan took the time to sew all the girls beautiful hula outfits.
My mom was surprised and very happy to see a student from Palisades, Lana, and her mom come out last night to watch and support Aloha Hula, Aloha Ukulele, and Palisades very own solo vocalist, Arahmae compete.
And with all this handwork and dedication, Aloha Hula took 2nd place for the dance category and Aloha Ukulele won 2nd place for the musical instruments category for this years Brown Bags To Stardom Elementary School Division.
One done one more to go. . .Spotlight at the end of the month at Kaimuki High School.
Thank you!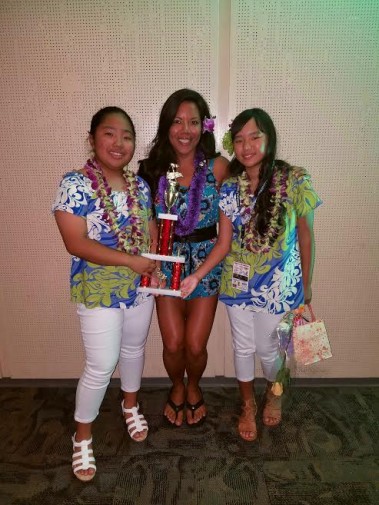 Photo by Erika Rodgers
Pictured (L-R): Jeny, Miss Christine, and Carly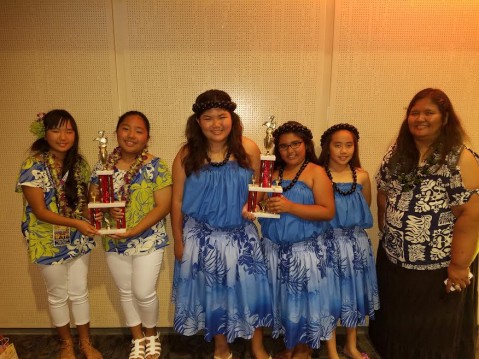 Photo by Erika Rodgers
Pictured (L-R): Carly, Jeny, Kallie, Hailey, Arahma, and Makua Leilani